Luxury vinyl tiles (LVT) is fast becoming the industry standard in office/commercial spaces. There are a myriad of reasons why and chief among them is its long-term resilience and easy maintenance/cleaning. Another critical factor is the sophisticated but economical versatility in aesthetic choices.
Balancing aesthetics and practicality is a vital but often confusing process. While every entity needs to determine its own list of needs and wants for their flooring, we would like to facilitate that process by suggesting three essential factors to keep in mind. But first, let's talk about LVT.
What are luxury vinyl tiles?
Luxury vinyl tiles are the cutting-edge of vinyl flooring. Luxury vinyl tiles (LVT) is a specific form of vinyl flooring with improved integrity. Vinyl flooring, in general, is renowned for being associated with lower costs, durability, and design range, but LVT takes all those to a higher level. Luxury vinyl tiles (LVT) tend to resemble ceramic and stone looks. However, here at Europine, we have seen some clients request tiles that visually look like wood, while others seek tiles with completely abstract patterns. The versatility of LVT aesthetics makes either request entirely possible!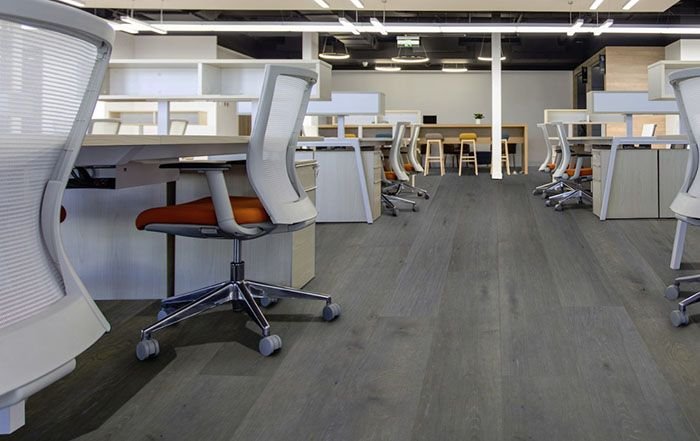 1) TILE SIZE
Luxury vinyl tile products are available in many sizes. Aside from the aesthetic considerations, one must think of how the tile size might affect overall costs in unit pricing, shipping, and installation. The larger the tile, the smaller the installation time as fewer tiles cover more space. Positioning each tile and ensuring adhesion also requires less time. Thus, larger tile sizes can equal less costs and time on labor and installation.
However, smaller tiles are sometimes the superior choice depending on the individual circumstances regarding an office/commercial space.
2) DURABILITY
No matter the type of material, our feet dole out a (literal) pounding on these floors. While different operations and situations experience differing amounts of foot traffic, all floors are susceptible to damage either through acute mishaps or chronic wear and tear. Environmental conditions also exert an effect on structural integrity. Luckily, luxury vinyl tiles come in a wide variety of products that can meet your needs and match the requirements of your operation.
One factor at play here is the thickness of the LVT. Specifically, the topmost layer will have its thickness manipulated to match not only any aesthetic design or finish requested but also the level of protection needed to suit your needs. Different tile sizes can be combined with different finishes to fit not only the level of foot traffic, but also geographical climate (humidity is vital here), use of machinery, and many other factors.
Perhaps the most significant factor in determining how long vinyl tiles will last is the thickness of the topmost layer. The printed design on the vinyl tiles is protected against scuffs and scratches by a transparent wear layer, which comes in different thicknesses.
LVT wear layers range from 8 mil, suited for residential use only, up to 28 mil, which meets industry standards for high foot-traffic commercial areas. It is also possible to have thicker wear layers, suitable for more robust environments, i.e., warehouses.
3) AESTHETICS
Luxury vinyl tiles can be manufactured with a wide range of designs and finishes. You can emulate most, if not all, other types of flooring, meaning you can achieve the "look" without needing to commit to the "hassle."
Some designs and finishes are purely aesthetic. Some examples would be having logos or images 3D printed on or choosing coloration gradients to complement or contrast with other aspects of a building space (think: furniture, interior decor, and different dimensional qualities). However, some top layers are tailored to specific qualifications, such as meeting the unique challenges posed inside hospitals, on military sites, for executive office spaces, and much more.
Manufacturers like Europine can collaborate with clients to select a finish that not only meets needs but still caters to cosmetic considerations, fusing aesthetics, and practicality.
Luxury vinyl tiles (LVT) can be the perfect choice to meet your flooring needs. Regardless of operational requirements, LVT allows owners to achieve the look they desire for their office/commercial space without having to sacrifice utilitarian or practical considerations. And the best part is that LVT accomplishes all this within a lower budget range than other high-end flooring options.
If you are considering stepping into the future industry standard by installing LVT for your floors, contact us, and we can start helping you meet your needs without giving up your wants!