If you've been interested in shopping around for new flooring and want to lean away from traditional stone or wood floors, you've probably encountered the new generation of vinyl flooring. Termed as "resilient" or "luxury vinyl flooring," the modern wave of the best vinyl flooring products can be quite dizzying to first-time consumers or those who've been out of the market for an extended period.
SPC vinyl and WPC vinyl flooring are two of the best and most popular flooring options available on the market today. The relatively cheap, quick installation and unparalleled longevity of these floors represent a perfect blend of quality and affordability.
But what exactly are SPC and WPC? How are they similar or different to other vinyl floors?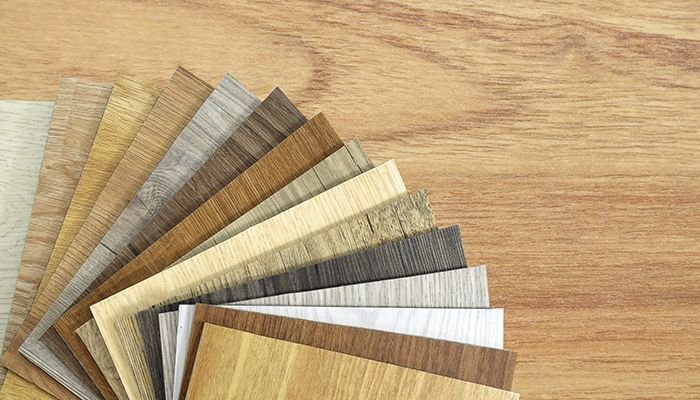 SPC stands for Stone Plastic Composite. It is also sometimes used to mean Stone Polymer Component or some variation of these terms. WPC refers to Wood Plastic Composite, also called Wood Polymer Component, or some similar iteration.
Some manufacturers and distributors will have their SPC and WPC products listed alongside their luxury vinyl floor products. Other companies may identify these products under resilient or rigid core floors. Part of the reason shopping for new commercial flooring can be so dizzying is the vast array of overlapping names. For example, SPC and WPC flooring options may be listed under enhanced vinyl, engineered vinyl, waterproof vinyl, and other such terms.
SPC vinyl, or Stone Plastic Composite, takes the chemical composition of other high-end vinyl floorings (polyvinyl chloride) and combines it with natural stone powders (usually limestone, specifically calcium carbonate). There are other chemical stabilizers and plasticizers injected into this hybridized core substance, but the latest advancements allow for a manufacturing process that is completely free of phthalates.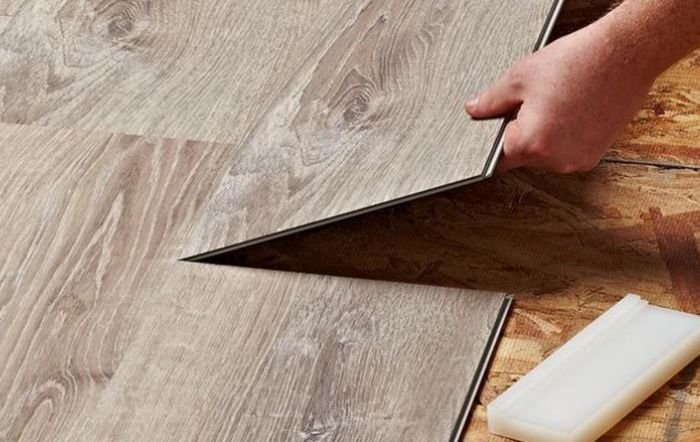 WPC vinyl, or Wood Plastic Composite, is also a synthesized material. Wood elements, such as recycled tree pulp or wood flour, are mixed with vinyl plastic substrates, foaming reagents, and sometimes even a small percentage of limestone powder, to create the core layer. Like its stony counterpart, it is also a 100% phthalate-virgin material.
Before delving into their differences, it is crucial to understand the similarities of SPC and WPC floors. For starters, they both share enough properties to be termed under the same umbrella category of "rigid core" vinyl flooring. One subjective description often used in the industry is that rigid core flooring products are the equivalent to a genuinely waterproof laminate floor.
Commercial SPC and WPC floor planks are both comprised of core layers that are 100% waterproof. The surface- and sub-floors are protected against the warping effects of moisture exposure. They are designed for use in areas expecting water or moisture to make contact with the floor regularly.
The actual anatomy of SPC and WPC planks are quite similar. Although there are occasional variations in the number of layers, both rigid core flooring products will almost always feature the following four sections, starting from the bottom up:
1. Underlayment
2. Core
3. Print/Design Layer
4. Wear layer
Regardless of the flooring material, there are several options available to augment the standard underlayments. Due to how resilient vinyl is laid down, installation can occur over the vast majority of subfloor materials without needing to remove the subfloor. Keep in mind the subfloor will still need to be as perfectly level as it can be (some industry regulations may apply). There are other installation methods that are entirely glue-free if there are end-user concerns regarding the use of glue.
The core layers are equally waterproof, and the 3D printing capabilities for the "visual" layer are the same for both Stone Plastic Composite and Wood Plastic Composite. The nearly unlimited range of design choices allows either top-rated flooring material to convey the exact aesthetic you desire. This gives SPC and WPC the best commercial flooring designs.
While there are some specific resiliency discrepancies between SPC and WPC commercial vinyl, they are still highly resistant to surface damage from scratching or stains. They perform reliably even in high-traffic areas, and opting for commercial rigid core floors with thicker wear layers can increase their longevity even further.
As the names imply, the first difference between SPC and WPC commercial flooring is the core layer; the stone and wood used in either one lend slightly different properties. While most of the performance standards met by both floors overlap each other, the small differences at the extreme ends of performance can have significant implications for specific clients.
SPC and WPC are available in the same range of sizes. They can come in planks or tiles of various shapes and sizes. Where they differ is the depth or thickness. Commercial SPC floors tend to be somewhere between 3.2mm and 7mm, whereas commercial WPC floors are usually between 5.5mm to 8mm.
The thicker WPC floors provide a better experience for foot traffic. WPC floors feel stable yet cushiony. They also offer slightly better insulation than SPC when it comes to temperature and sound. WPC is warmer and quieter than most SPC commercial floors, making it a joy to walk across.
In a real case of "don't judge a book by its cover," the thicker WPC floors are fare slightly than their SPC counterparts when it comes to overall durability and resistance. The thinner SPC commercial floors are also denser than WPC, making them better equipped to resist impact damage of all kinds.
Likewise, the better insulated WPC planks/tiles are outperformed by SPC floors in regards to environmental adaptability. Erratic and extraordinary temperature fluctuations will make floors expand and contract. SPC is designed to handle this reaction to climate variability, whereas WPC is less suited for this.
Overall, excluding additional costs (unique finish layers, coatings, underlayments, etc.), wood plastic composite floors tend to cost more than stone plastic composite floors.
If you ever find yourself needing/wanting to discuss any of these topics, or even just to ask your questions, please feel free to contact us. In fact, Europine encourages and welcomes any and all further inquiries regarding your flooring concerns.