Luxury vinyl tile (LVT) flooring has recently become one of the most, if not the most popular, flooring solutions on the market. Is this merely a trendy fad, or is LVT here to stay? Let's delve into the subject and explore four reasons why LVT is becoming the industry standard for flooring.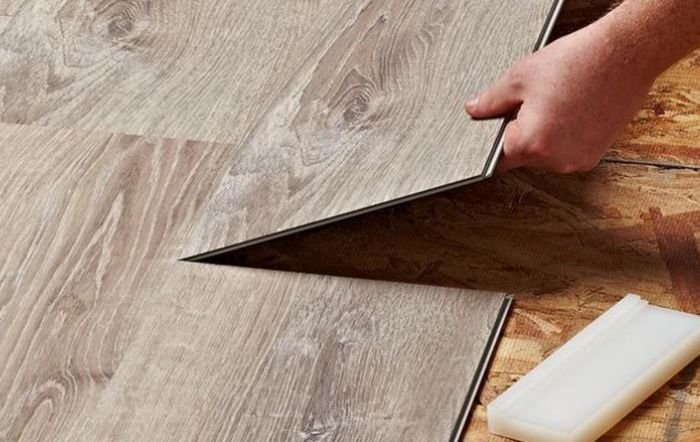 Here are a few reasons why?
1) Aesthetic
Despite a slight market preference for wood-style LVT floors, the reality is that all the different visual styles of LVT are in-demand. The reason is because there is such a wide range of available designs and styles. Many kinds of clients are drawn to LVT, each of them asking for their preferences.
Aside from the more traditional looks of wood and stone, there is an enormous array of abstract designs available. You can elect to go with a non-traditional pattern or even ask for your own personalized/custom design printed on your LVT floor!
2) Durability
A top reason why many clients choose LVT flooring is because of its enduring qualities. Each tile or plank is made of carefully combined layers. The following is a basic breakdown of the layers:
● Vinyl backing
● Vinyl core
● Print film layer
● Protective clear layer, known as the 'wear layer,' and finished with a polyurethane coating which is sometimes re-enforced with ceramic bead, glass/crystal bead, or aluminum oxide.
The nature of these layers and the order they are placed in determine many aspects of how a particular LVT product will behave, but the one thing they all share in common is how strong and durable these floors are.
While other types of flooring require time-consuming maintenance practices, such as regular waxing, constant polishing, and sealing, to protect against long-term damage from wear and tear, LVT's top layers protect against scuffs, scratches, water, stains, and much more.
Perhaps your operational space experiences high foot-traffic, heavy furniture moving, machinery use, or some other type of risk exposure. Regardless, LVT is engineered to withstand the common enemies of your floors.
3) Ease of Maintenance
With the aforementioned top layers hard at work to keep surface damage at bay, there is another benefit to the way LVT is engineered and designed; it is extremely easy to clean and maintain. Some clients benefit from this because they simply do not want to ruin their professional ambiance with noisy or distracting cleaning crews while other clients benefit because they are on tight budgets and cannot commit to expensive upkeep practices like constant waxing and detail cleaning.
While some types of vinyl floors may indeed require regular waxing and sealing to keep dirt and other damages from affecting the tiles, luxury vinyl tiles do not require it. This means many savings (both in time and in money) in the long-run.
All that is required to maintain your LVT floor looking like it's brand-new with that shiny gleam is a quick sweep and mop. Some clients choose to add more protection via specially designed wax/polish products, but most clients find that they do not need to invest in such products to enjoy the long-term benefits of owning LVT floors.
4). Ergonomics
As well-being and bodily health continues to grow as a top priority for consumers of all backgrounds, companies such as Europine are looking to create flooring products that consider every last effect on the human body.
LVT floors not only preserve the joints in your feet and legs with its soft underfoot, but it also reduces the noise pollution found in a commercial space. Peer-reviewed journal articles have published studies that show that noise levels in a commercial space are directly correlated with stress levels found in employees as well as customers.
Scientific data such as this is one of the driving forces behind why many companies are switching from harder surface floors to LVT floors. Luxury vinyl tiles address many ergonomic issues found in other types of flooring without sacrificing any of the firmness, stability, or long-term integrity of the floor.
The degree of "give" and the acoustic profile of LVT flooring represents the cutting-edge in modern flooring. Offices and other commercial spaces, particularly hospitals, are able to achieve their desired aesthetics while simultaneously upgrading the quality of life for their employees while working. Here at Europine, we also like to mention that this increased positive quality of LVT flooring also extends to the most important part of any operation; the guests and customers themselves.