According to multiple market reports, the luxury vinyl sector of the flooring industry is set to experience incredible growth in the next years. It is predicted that luxury vinyl flooring, such as LVP, will grow from approx. $18 billion in 2019 to approx. $31 billion by 2024 (some figures vary slightly, but none outside the normal standard deviations). Moreover, while residential sales will experience some level growth, the bulk of the economic expansion predicted for luxury vinyl will occur with commercial and other non-residential sectors.
While financial metrics predict growth across all geographical regions, Asia is where most of the demand for luxury vinyl flooring will take place. The reason why is because the growth of commercial luxury vinyl is tightly associated with the growth of construction, particularly infrastructure construction. Asia is experiencing heavy investment in improving infrastructures and the type of resilient flooring chosen to accompany this meteoric rise is luxury vinyl, particularly LVP.
The reason luxury vinyl plank is so popular for construction projects and commercial operators is that LVP flooring has proven itself as a dependable commercial flooring product. Regardless of the nature of the project, luxury vinyl plank flooring can be modified and specified to meet nearly all of the challenges potentially found in commercial flooring. LVP has evolved throughout the years to meet these challenges, and as the demand for LVP increases, the amount of challenges that LVP must adapt to will also increase. If history is any indicator, luxury vinyl plank will be able to adjust accordingly, and this allows the LVP sector of the flooring industry to expect a bright economic future.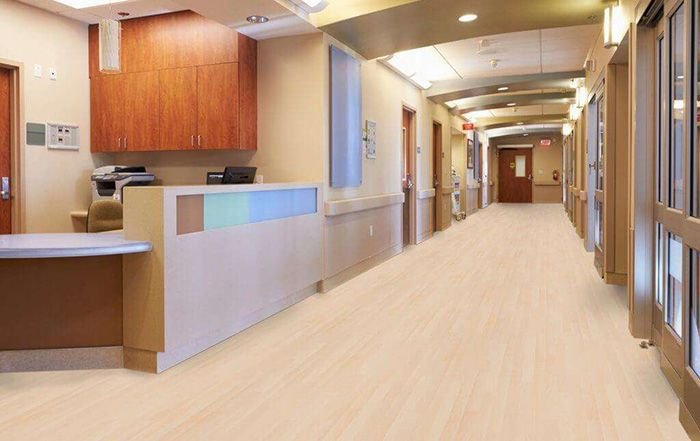 Residential flooring is the testing ground for commercial flooring. If a flooring product cannot excel as a residential floor, then it will most likely not be apt for commercial uses. While more traditional vinyl floors have often yielded mixed results for homeowners, luxury vinyl flooring has shown surprising longevity in homes. As LVP was brought into the world of commercial flooring, the long lifespan of LVP was tested and verified.
Regardless of the application, be it residential or commercial, LVP floors will last an average of 15 years (10-20 years is the range of standard deviation). This, of course, depends largely on both quality selection and proper installation. Major LVP distributors, such as Europine, can help guide consumers to select the best quality for their commercial flooring needs as well as ensuring a thorough and appropriate installation process.
However, mindful maintenance is also essential to guaranteeing a long-lasting floor. This is where the end-user comes into play; the way you take care of your floor affects the way your floor ages. By practicing routine cleaning and giving a little extra effort each day, commercial LVP flooring can last even longer (some early models of LVP are still in use today, a true testament to its potential for longevity).
The durability and resistance abilities of LVP is the main driver of its longevity, and it is derived from the way luxury vinyl flooring is produced.
Another reason why we know that LVP can last so long is because owners are choosing to stick with their floors instead of replacing it. While this is because of various reasons, one reason LVP lasts long is because it rarely becomes unfashionable.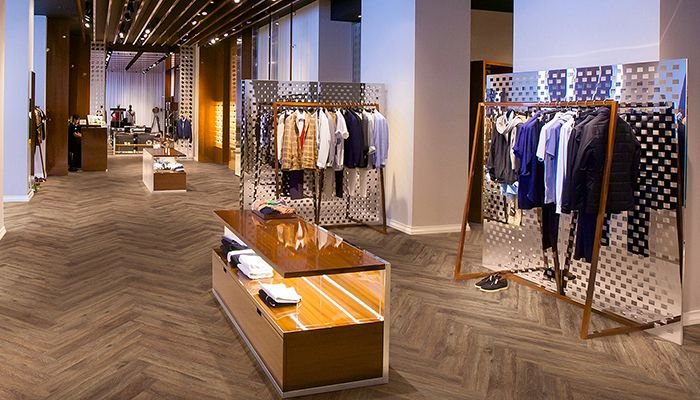 Versatility of End-User Choices
Luxury vinyl plank is hardly ever out of style. Certainly, the fact that LVP is usually designed to emulate the coveted, classic hardwood floor look and texture explains part of why LVP stays popular throughout the years. But another explanation for why LVP is rarely out of touch with fashion trends is because of the vast array of design choices available to the end-user.
The cutting-edge 3D printing capabilities of luxury vinyl plank commercial flooring allows buyers to customize the look and feel of their floors in any way they choose. Color and texture choices are not limited to traditional designs; abstract patterns and brand logos can just as easily be printed on the planks.
Aside from the visual layer of the planks, end-users also have the flexibility to choose the sizes of the planks. Planks can come in staggered or equilateral iterations, simulating different types of hardwood and non-wood floors. Plank width is also at the discretion of the consumer, allowing different aesthetic environments in different sections of a commercial space.
The versatility of choosing luxury vinyl plank shape and thickness complements the wide range of different coatings and finishes available. Commercial LVP flooring must be resilient enough to meet a variety of different environmental challenges. The uniqueness of some of these challenges sometimes requires specialized coating layers or finishing options. Luxury vinyl plank resiliency is augmented by these specially engineered top layers in order to provide all end-users the best commercial flooring solutions for their needs. This includes the method of installation, given that how a commercial floor is laid down goes a long way in determining its success in a specific commercial operation or space.
Contrary to some misconceptions, the word "luxury" does not mean that commercial luxury vinyl plank flooring is expensive. True, LVP is not as cheap as some other flooring products, namely carpet or VCT. However, it is much cheaper than real hardwood commercial floors and other types of hybrid commercial flooring. The streamlined production process and relatively easy transportation and installation of LVP significantly reduces its upfront, short-term cost without sacrificing the elite levels of durability and versatility.
In the long-run, LVP also represents cost reduction through a variety of ways. Firstly, should luxury vinyl planks need to be replaced, the cost of purchasing and installing replacement planks mirrors the cost of the original planks. Secondly, the incredibly simple cleaning and maintenance requirements of LVP represents savings in terms of labor wages as well as the cost of cleaning materials. Since there is no expensive wax or polish required, anybody can quickly and competently clean commercial LVP floors.
If you ever find yourself needing/wanting to discuss any of these topics, or even just to ask your questions, please feel free to contact us. In fact, Europine encourages and welcomes any and all further inquiries regarding your flooring concerns.