So, you have become the proud owner of new commercial flooring. If you've recently installed luxury vinyl tile (LVT) or luxury vinyl plank (LVP) from Europine, then you've made a wise selection. Luxury vinyl flooring represents the best commercial flooring materials and products currently on the market, especially for operations that experience daily traffic in high amounts.
LVT floors have long lifespans and endure many challenges other floors cannot cope with as easily. However, even the strongest floors are not immune to chronic damaging.
Regardless of your commercial flooring, Europine is happy to share some pointers on your commercial floor's maintenance and care. With these measures, you'll be able to keep your flooring looking brand-new.
Luxury vinyl tile (LVT) and luxury vinyl plank (LVP) flooring(s) from Europine's collections are beautiful, long-lasting, and user-friendly. To keep your Europine floors looking brand-new as long as possible, we suggest the following maintenance and cleaning tips. While luxury vinyl flooring is engineered and designed to be highly durable and resistant to many types of damage, no floor can last if left utterly neglected and recklessly utilized. Employing the following commercial flooring care tips will extend the integrity and lifespan of your best-in-class commercial flooring.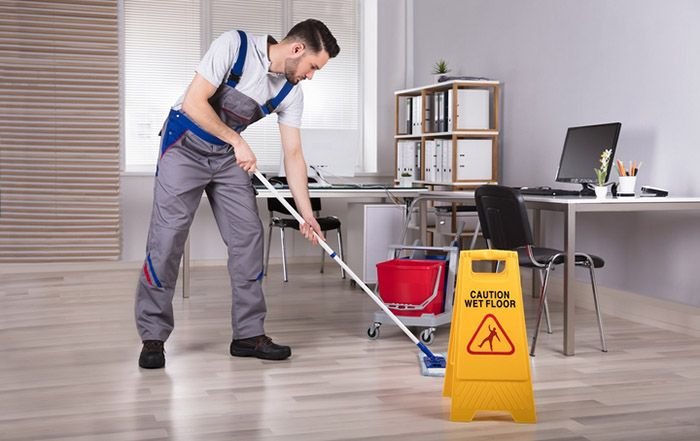 How to Schedule Your Maintenance/Cleaning
Before taking any action, a commercial flooring owner must consider a few pieces of information. Whether your commercial operation or retail store has installed LVT, LVP, or some other kind of flooring, there are always best-practice and cost-effective ways to maintain and clean your floors. To choose how to best care for your commercial flooring, you should pause to think and carefully evaluate the following information:
Precisely what type of flooring do I have?
Although this seems like a no-brainer, it is essential to make sure you know your floor. Many types of materials can outwardly look and even feel the same, yet individual differences in chemical composition and material synthesis can make a huge difference. For example, LVT floors can be confused for rubber or linoleum to an untrained eye. This can lead to the wrong chemical cleaning agents being used, causing unnecessary damages and costs.
Be sure to investigate the presence of any special finishes, after-market coatings or treatments, and any other product specifications that might be relevant for maintenance.
What are my resource capabilities for cleaning my floor?
While there might be more "ideal" ways of cleaning than others, we must all deal with reality (especially in business). Identifying any organizational barriers or budgetary restrictions for certain cleaning methods are important when creating a flooring care/maintenance routine. Some questions to consider are:
-What equipment (i.e., tools), cleaning agents, etc. are available to me?
-Who will be in charge of the cleaning schedule?
-How well-trained are the maintenance/custodial/janitorial crews?
-Do cleaning crews have appropriate personal protection equipment?
-How many man-hours can be allotted for cleaning?
-If additional resources/man-hours are required, does the budget allow for that?
What are the expectations for your commercial flooring?
Another key component is the expected outcome for the floor. In other words, how exactly do you want/need the floor to look? This consideration can vary widely from one commercial space to the next. If you are not the direct owner of the floor but need to construct a maintenance regimen anyways, then start by asking yourself what the owner's expectations are. What would look acceptable and achieve brand representation? Think of the customers, your staff, and other miscellaneous end-users.
Consider the aesthetics; do you need the maximum level of shine and gleam, a high or low level of gloss, etc.
What type of building/facility is it? What is the location of your flooring?
The purpose of the building or facility that houses your flooring goes a long way in determining how your floors will be cleaned. For example, hospital flooring invariably needs to be antimicrobial, which leads to different maintenance methodologies.
The specific area within a building or facility containing the flooring in question will also determine its cleaning needs. Points-of-contact areas, like entrances and lobbies, inherently have different cleaning agendas than storage areas. In multi-story commercial spaces, there can also be different factors at play.
Traffic Volume and Category
The more activity a floor sees, the more often it will need to be cleaned. The type of traffic activity also affects a commercial floor's maintenance requirements. High foot traffic areas like corridors and cafeterias experience more frequent cleaning than low traffic spaces. The type of foot traffic also matters; boot treads and high heels present different challenges for different floors.
Commercial floors do not only experience foot traffic. There are many instances of frequent wheeled-traffic, or what the industry calls "rolling loads." Commercial floors receive different stresses from foot traffic versus rolling traffic. The heavier the loads are, the type of machines/wheels, and the frequency of sharp turns by these rolling loads can significantly increase the chances of marks or damages.
Color/Design of Flooring
Choosing the right color scheme or pattern can help protect the appearance of the floor. When the proper design and aesthetic choices are made, LVT floors become immune to nearly all scratches, stains, and scuff marks. Light tones are known to be susceptible to marring, but surprisingly so are darker tones. Neutral or "mid" tones work best for masking superficial imperfections. Another tactic is to choose LVT with variation patterns (aka "busy" or high-contrast patterns). Floors with one, uniform color scheme (aka "solid" or monolithic designs) are usually more exposed to surface damages.
These aesthetic considerations can influence the frequency and intensity of your cleaning routines.
Commercial flooring care & maintenance stages
POST-INSTALLATION
The first time you clean your floor is a critical moment. The timing between installation and first maintenance is essential. There must be enough time elapsed to guarantee adhesion has taken hold. Times vary according to materials, installation methods, and environmental conditions.
Once you know enough time has passed, remove any and all coverings, even protective ones. Perform basic cleaning procedures (dusting, sweeping, vacuuming, and/or mopping). Once you are confident that all dirt, dust, and miscellaneous debris have been removed, you can move on to the most critical step in your commercial flooring's first cleaning. In a ratio of approximately 3 fl. oz per gallon of clean/potable water, dilute a neutral vinyl floor cleaner (e.g., Excelsior NC-900). These products work best with a rotary floor cleaner (22 gauge, nylon soft-bristled brushes are suggested).
After applying the neutral cleaner, ensure that you remove any residue from the cleaning mixture off the floor. You can use automated scrubbers/cleaners, water vacuums, or even a simple mop. The key here is to use clean/potable water to remove ALL excess cleaning solution. This last step may take two or three repetitions to ensure removal of residue materials fully. While this may sound droll or trivial, the actions taken during the first cleaning after installation can help your commercial flooring stay pristine and brand-new.
APPLYING FINISHES/COATINGS (optional)
Europine LVT & LVP products do not require a finish. However, many owners feel more peace of mind by opting for additional layers of protection. Sometimes it is dictated by commercial flooring needs.
If a specific finish or special coating needs to be applied, then performing a proper post-installation cleaning is an absolute MUST-DO. Finishes and coatings only work to their full potential when the flooring they are used on is free of contaminants (e.g., dust, dirt, debris, chemical residue). Apply an acrylic floor finish (gloss or matte, depending on your flooring specs). Follow instructions listed on the product (we suggest Excelsior); be advised these finishes typically take anywhere between 3 to 5 coats. Make sure each coat has dried thoroughly before applying subsequent coats.
DAILY MAINTENANCE
As far as regular maintenance, the specific type of commercial flooring you have will dictate the frequency and intensity. For LVT or LVP floors from Europine, the process is hassle-free. Remove dust, dirt, and other pieces of debris with a broom or vacuum. DO NOT use vacuum cleaners with metal beater bars or electric brooms that lack soft bottoms (either because of hard plastic or lack of padding). This is important to avoid inadvertent scratches/scuffs, to preserve color vibrancy, and to ensure long-lasting sheens.
Use a neutral cleaner in the ratio mentioned above of 3 fl. oz. of cleaner agent per 1 gallon of clean/potable water. You can use a regular mop, although we suggest using mop-heads that are not too worn out or dirty. Make sure to rinse the floor properly and remove any residues. Resume normal activities once the floor has completely dried.
FLOORING PROTECTION
If your newly installed floors require additional levels of protection, for whatever reason, there are options available. Industrial grade paper boards or specialized protective boards can protect flooring that is potentially exposed to harsh contacts. Products like Masonite and Ram Board protect floors against damages caused by activities like moving cargo pallets or operating heavy machinery across it.
Another point of interest is to ensure your traffic is in keeping with the adhesive material's specifications. This also applies to the overall weight placed on the flooring by furniture, appliances, and other large objects.
To protect your floors as long as possible, try to cover objects that will come into constant contact with the floor. Whenever possible, use temporary floor protection measures when you need to install or remove furniture and appliances. Use appropriate casters for heavy furniture. We suggest opting for softer caster materials and using a contact point that is at least 1 inch wide to prevent permanent indentations. For furniture legs, we again suggest using soft materials, like felt or rubber, as floor protectors on all contact points. The same width of 1 inch is also recommended.
Casters and floor protectors should be regularly maintained and cleaned for maximum floor longevity. Do not let dust, dirt, and debris accumulate and replace any worn-out caster/protector before they break apart. Entrance mats on the outside portion of doorways can also help prevent external contaminants from injuring your floor (however, make sure the backside of the mats are industrial-grade non-staining).
If you ever find yourself needing/wanting to discuss any of these topics, or even just to ask your questions, please feel free to contact us. In fact, Europine encourages and welcomes any and all further inquiries regarding your flooring concerns.