Economic studies show that consumer habit trends are shifting towards ethical consumerism. This shift means that the environmental impact involved in the production or distribution of a particular product weighs heavily in the minds of economic agents. The eco-friendly process behind luxury vinyl tile and stone plastic composite flooring explains part of why commercial operations, industry pros, and even amateur DIY entrepreneurs are trending towards LVT and SPC.
Luxury vinyl flooring offers versatility in aesthetics with a wide range of looks. With various flooring textures and floor designs, LVT and SPC can serve up some of the most abstract and cutting-edge looks available on the market. Historically, there has been a popular trend towards opting for classical wood or stone looks. With the new year firmly shifting aesthetic appeals, we here at Europine would like to share the latest fashions and trends in 2020.
Lighter tones, particularly shades of white and grayish gradients, are being sought after more and more. Those who aren't fans of white and gray are still opting for lighter shades such as beige and even salmon. Another stylish update is installing LVT and SPC that feature high variations and modern reinterpretations of wooden colors.
Below are some highlights of the 2020 fashion trends and styles:
Ok, we know what you're going to say; gray has always been around. This statement may be accurate, but there is a reason this perennial pick is still a powerhouse. Every year, light tone lovers and dark tone diehards both lean on this tried and true color. It is neutral enough to still pair well with most other colors, yet somehow it speaks enough on its own that it can be schemed with different shades of itself. Whether you choose the modern grays that are cooler, or the darker charcoals and gray-browns, going gray is a solid choice that many will find hard to criticize (if appropriately schemed). LVT and SPC can support all the different shades of gray in beautifully salient ways due to the print capabilities available with cutting-edge vinyl flooring technology.
2020 hasn't quite felt like it, but owners are still pushing for "breezy" and tranquilizing feels for areas like office spaces and large, open rooms. As such, light, blonde interpretations of the classic wood look has been trending upwards. Luxury vinyl tile (LVT) or stone plastic composite (SPC) with this perennial and storied wooden look makes areas feel far more expansive and inviting, especially with bigger tile sizes. Variations in tone allow this neutral color to complement both rustic and urban spaces. The psychologically warming factor of these hues is a regularly reoccurring theme in the new color trends for the year 2020.
Warmer, lighter hues are unquestioningly trending for 2020. The airy blonde brown may not be full-bodied enough to satisfy your palette, and we here at Europine suggest richer honey browns instead. These warmer shades provide the same psychologically calming effects as the blonder wood looks. The slighter deeper and darker tonality can add a tinge of coziness and comfort. This inviting and relaxing color scheme may end up sticking around for quite a while beyond 2020.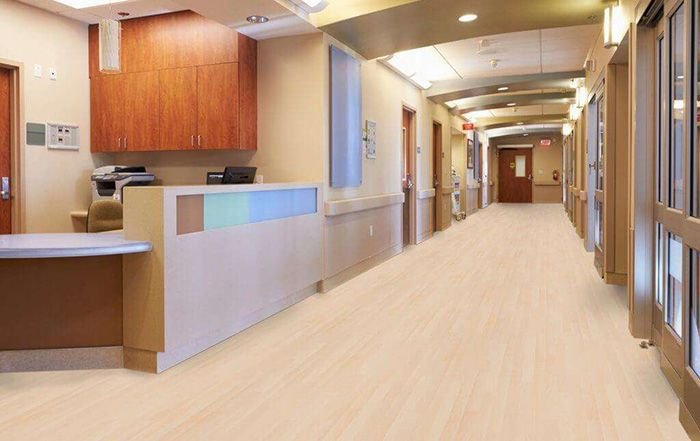 The "distressed" aesthetic isn't necessarily a newcomer on the list, but it is coming into itself in 2020. Patina, or sheens, with worn-and-torn looks, are being used over concrete designs on luxury vinyl tiles to achieve the "un-polished" concrete floor look. Likewise, wooden-panel LVT and SPC designs can be digitally altered before printing to provide that aged tree feel. Part of the trend for 2020 is finding comfort within the ambiance of "things that have withstood the test of time." LVT and SPC can provide just the right design to bring to reality that custom look you've always desired for your industrial or commercial flooring space.
2020 is all about finding comfort within the context of calm and fresh feelings. The nation has caught onto using the vastly lighter tones of white-ish wood that has been sun-washed, like wooden planks left on the beach to bask in the sun rays. This familiar and relaxed ambiance can be evoked through other styles, like rural, countryside farmstead or contemporary, avant-garde aesthetics. One could use some dark undertones to pair with semi-distressed or aged looks, or one could opt to emulate the blonde woods mentioned earlier to fuse the two trends. For the more color oriented, following the example of the beach will yield great complementary pairings with yellow and blue tones, tributes to the sun and ocean. Light sandy browns that are slightly off-blonde still work just as well, especially for places without a whole lot of natural light.
If you ever find yourself needing/wanting to discuss any of these topics, or even just to ask your questions, please feel free to contact us. In fact, Europine encourages and welcome any and all further inquiries regarding your flooring concerns.