Let's face it; we all want our floors to be durable and long-lasting. In the commercial sector, durability is even more critical. Areas with high amounts of traffic, be it on foot or by wheels, absolutely need the flooring to withstand the constant pressures. Think of hospital lobbies, airports, educational institutions, recreation centers, food and beverage establishments… places like these all have commercial flooring needs that most sites do not have.
Vinyl flooring has long provided a viable option for commercial operations with high-traffic areas. Residential property owners can certainly attest to this. The resistance properties of the best commercial vinyl floors made it ideal in facilities that see a lot of activity. Apart from the general durability and waterproof aspects, the easy maintenance and low replacement costs make top commercial vinyl floors a favored go-to. Consider the vast array of design options, and it's no wonder that vinyl floors have taken over the commercial flooring market.
With the advent of luxury vinyl flooring (LVF), commercial and industrial operations have begun to rely on LVF more and more. Recent market data supports this, and it explains why the flooring sector as a whole will continue to prosper despite global economic instability. In fact, one might argue that the precarious global economy is the reason why owners are turning to the tried-and-true qualities of LVF at cost-effective pricing.
Luxury vinyl commercial flooring comes at a higher price tag than other vinyl composition tile floors (VCT), but it still costs less than the types of flooring LVF competes with: hardwood, ceramic, stone, and similar floors. The good thing about investing in commercial LVF is that it delivers on its pricey numbers. The design and aesthetic arsenal is an incalculable advantage over these other types of high-end floors. Commercial entities are now frequently seeking floors with specific brand designs printed on them. It's impossible to accomplish these marketing and branding strategies with commercial hardwood or stone floors.
Here, we will go over with you a breakdown of the reasons why LVT is one of the best options for high-traffic commercial projects.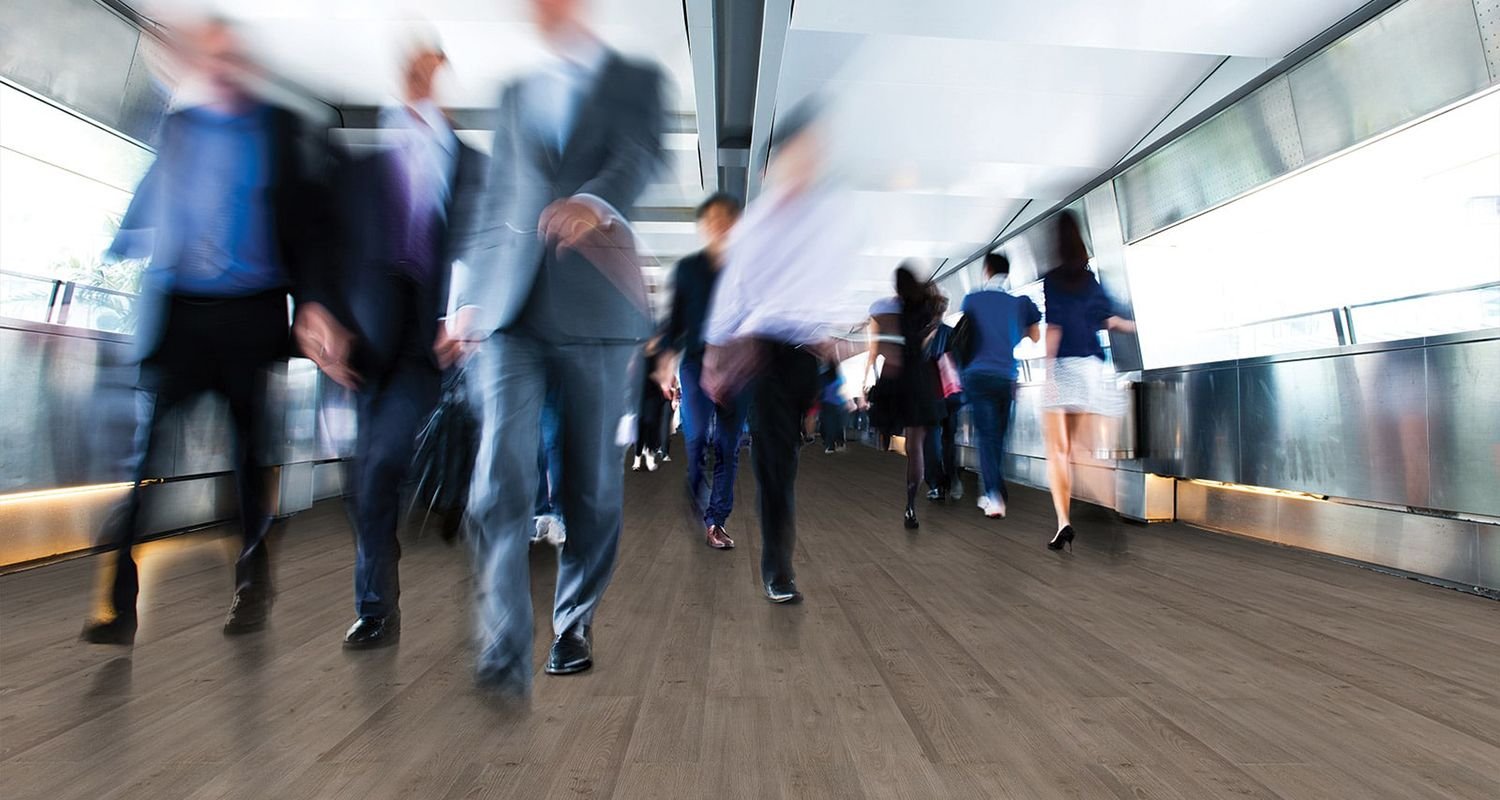 The flooring industry has completely changed in recent years. Within the last decade, the majority of flooring transactions shifted decidedly towards luxury vinyl flooring. This resilient and high-performance flooring now commands over 75% of the flooring market. It has started to dominate the commercial flooring sector, and the rise of advanced LVF technology, i.e., rigid core flooring, will only continue this upwards trend.
Luxury vinyl tile has proven to be the best commercial flooring options. LVT is certainly proven to be the most versatile and flexible commercial flooring. The functional and visual versatility allows it to meet and often exceed commercial flooring needs, and this attracts new commercial sectors to invest in luxury vinyl flooring. Vinyl flooring manufacturers are then exposed to novel flooring needs that push engineers to create new flooring solutions. In short, the versatility adds business, and the business generates more versatility.
The variations have risen in number of iterations thanks to sectors like hospitals and medical centers, airports, and Fortune 500 companies pushing flooring companies to produce more specialized floor products. The luxury vinyl flooring industry has embraced this challenge, and the result is some incredibly specific flooring products.
Depending on your high-traffic commercial area, you may require additional layers added to your flooring material. Certain underlayments can alter the acoustic profile of LVT to match specific environmental needs (e.g., in libraries, testing facilities, and performance halls). Specialized coatings can improve particular properties, such as high-grade UV protection. Places that need aseptic environments, like hospitals and health services clinics, can opt for the antimicrobial qualities to be improved to the highest degree. Areas that experience equal amounts of foot-traffic and rolling loads, like certain kinds of warehouses or cargo bays, need floors that are rigid and durable yet still comfortable to walk on. This can be achieved by adding specific buffer layers between the LVT and the subfloor.
Luxury vinyl tiles also perform superbly well in terms of temperature regulation. Cold and hot temperature fluctuations cause floors to contract and expand. Treating LVT with certain finish layers can aid in this, as can selecting a more optimal installation method. LVT can also have better energy efficiency in this manner. This quality can help combat even the most persistent climate problems in some geographical locations.
Extreme kitchen conditions, like those found in chain-restaurant kitchens, may preclude LVT as the correct choice in flooring. However, shared dining/bar areas inside restaurants are perfect places to install commercial LVT. Not only will the luxury vinyl flooring withstand the wear and tear of customers, but it will also lower upkeep costs with its comfortable cleaning requirements. The antimicrobial and waterproof properties of LVT are particularly valuable in these areas (also in supermarkets with freezer aisles). Mold and other forms of pesky damage do not affect our treated luxury vinyl tile commercial floors.
Here at Europine, we've installed our commercial LVT flooring products, such as our GRIT collection, in many high-traffic areas. While we understand that budget concerns are always a priority, we often suggest high-traffic commercial installations to opt for additional protective finishes. In our experience, these suggestions have gone a long way to keeping commercial flooring buyers satisfied with their investment for a long time. Some places do not "seem" like a high-traffic area, yet in actuality, they experience substantial activity (offices, dining establishments, and childcare centers come to mind). In these areas, our suggested protective layers have helped preserved our commercial flooring products, ensuring client satisfaction, and improved user experiences.
To learn more about commercial LVT, check out our GRIT collection flooring products.