Often overlooked, having the correct type of flooring in a hospital or healthcare/medical facility goes a long way in ensuring its success. Making the right decisions in terms of type selection, installation style, and long-term maintenance schedules can affect everything about your institution.
Here are some of Europine's suggestions for your consideration when it comes to choosing your hospital flooring.
Hospital Flooring Specifications
Hospital/medical flooring should never be chosen carelessly. Some various considerations and specifications go into looking for your ideal flooring choice. Overall, the hospital flooring material and texture you select will have many jobs, such as improving safety, stress reduction, increasing patient satisfaction, and allowing for a solid ROI.
Below are some of the specifications you need to ensure your hospital flooring features for best-in-class results.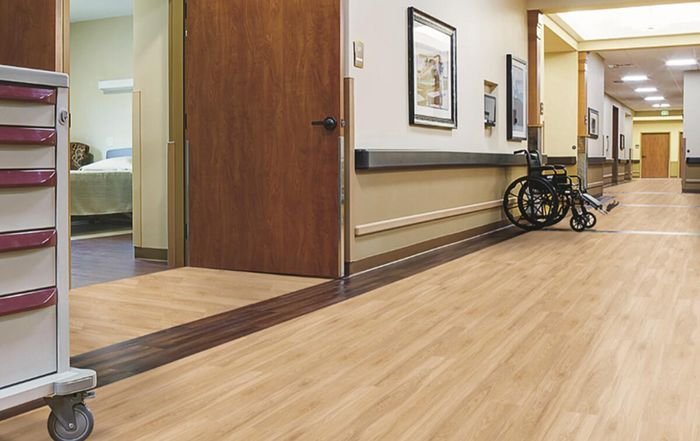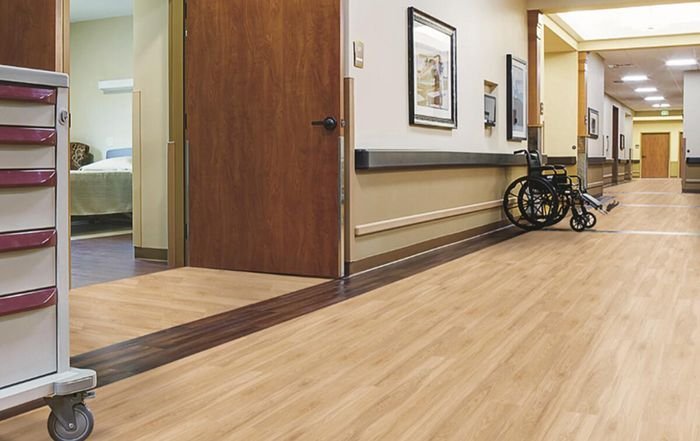 Slip Resistance
Selecting a flooring that is engineered to reduce the risk of slipping and falling is crucial, especially in a sensitive setting like a hospital. Please note that when flooring renovations are being installed that great care should be taken to avoid having any height differences or abrupt edges so as to prevent tripping.
Sanitation
Two ways hospital flooring can tackle hygiene and sanitation are by being waterproof/spill-resistant and by being antimicrobial. The lack of organic materials in luxury vinyl flooring means germs and microbes do not spread. Also, the easy cleaning and maintenance associated with these floors help keep hospitals safe and sanitary.
Noise Absorption
Noise pollution is positively correlated with increased stress levels. Doctors, nurses, and other healthcare staff need to concentrate as much as possible. Patients in recovery need to rest and sleep as much as possible. Abrupt or sharp noises can lead to costly mistakes. Having floors that absorb sound waves and deter noises from carrying is a critical ergonomic advantage all medical facilities should consider.
A Little "Give"
Having slip-resistant floors and a smartly planned layout can prevent many, if not most, of slips-and-falls, but even so, accidents can happen – just ask certain hospital patients! In that event, having a floor that has some level of "give" can make the difference between some bruising or a broken bone or two.
Cushioning
Considering how often healthcare professionals find themselves walking or even running around hospitals and medical facilities, it's imperative to have a floor that has sufficient cushion. Softening the impact the floor exerts on feet and leg joints not only makes it more comfortable in the short-term, but it also preserves the joints in the long-term as well. This is also true for patients, especially those with lower body conditions.
Aesthetics
Emotions can run high in hospitals; staff, patients, families, and other visitors are all liable to experience strong emotional reactions. Having an ambiance that instills peace, evokes calmness, provides reassurance, and extends a welcome to everyone is a game-changer for hospitals. The best flooring can also express the level of professionalism and cleanliness of staff. By playing with color, texture, design, and lighting, floors can make or break the emotional ambiance in a hospital.
ROI (Return On Investment)
Of any operations, a hospital must remain open and functional as much as possible. With quick installations, simple maintenance, and long-term durability (reducing needs of repair/replacement), LVT flooring not only keeps hospitals running without much interruption but also reduces overall associated costs.
Choosing Your Hospital Flooring
How does one decide which flooring best suits your hospital or healthcare facility?
Selecting a floor must include considerations for each specific area of installation. Hospitals and similar facilities can contain rooms and regions with vastly different purposes and needs. Just one type of flooring will never be enough. Here are some of the typical and popular floors according to their area of installation.
Entrance/Lobby Floors
Entrances and lobbies must look welcoming and have a sense of presentation. Information kiosks, security check-ins, and other miscellaneous situations bring various types of people into your hospital. The first impression your entrance makes can make a big difference. Furthermore, these areas experience the most amount of foot traffic. Having a presentable and sturdy floor is very important.
LVT floors allow attention-grabbing visuals to meet durability and long-term integrity and create the right floor that will last long.
Corridors, Hallways, and Clinical Rooms
Corridors/hallways are, to make an anatomical analogy, like the blood vessels in your body. The arteries and veins of your facility see high amounts of foot-traffic at any hour. Moreover, there are high instances of equipment movement, typically in the form of wheeled loads (wheelchairs, stretchers, medical/equipment carts, etc.).
During the installation of flooring in hospital corridors/hallways, the process must happen as quickly as possible with as little disruption as possible. This can keep critical, life-saving operations flowing as smoothly as possible. However, installations cannot be rushed to the point that it creates inferior quality. LVT flooring (also, rubber flooring) installation is relatively easy compared to other types of flooring, ensuring speed without sacrificing quality.
Both options are scratch- and scuff-resistant, have long-term durability, and are available in a variety of design options. LVT, in particular, can offer textures and patterns that mimic any natural looks or create modern/abstract looks.
Operating/Emergency Areas
ORs and ERs are subject to stringent regulations and requirements, particularly infection control (think: sterilization). Floors here need to be sturdy enough to withstand increased foot- and wheeled-traffic on a 24-hour basis. The flooring a hospital selects should be easy to keep sanitary and promote elite levels of hygiene. It is recommended to choose a floor that has a smooth or low-texture surface.
LVT, sheet vinyl, and linoleum flooring are all viable options for operating rooms and emergency rooms. These floors can be installed via heat welding, a process that can truly ensure an aseptic condition. All three flooring options can also be specified with certain coatings made to resist tougher stains, i.e., chemical staining from bodily fluids and medical products.
With the right coatings and finishes, OR and ER floors will not need to be polished or waxed. This reduces the time and cost spent on maintenance and cleaning. These floors, particularly LVT, can also improve indoor air quality and reduce emissions of volatile organic compounds, achieving the low VOC that is so often vital.
Cafeteria Floors
Needless to say, cafeteria floors need, above all else, to be stain-resistant, anti-slip, and easy to clean. An option to obscure stubborn scuff marks is using a patterned design while going for a textured flooring style will reduce the occurrence of slip-and-falls. LVT allows you to have both. Sheet vinyl and tile flooring are also well suited for cafeterias.
Nurse's Stations & Treatment Area Floors
Nurse's stations and treatment areas should provide comfortable experiences for both staff and patients. The aesthetic ambiance in these areas should reduce stress and promote tranquility. Historically, these areas would use traditional linoleum and vinyl composition tile (VCT). Advances in technology and manufacturing now allow for bio-based tile (BBT) and sheet tile flooring that eliminate using many VOC materials.
At Europine, we recommend flooring for these hospital areas to be specified with proper coatings so as to resist scratch/scuff marks while drastically reducing maintenance needs (i.e., little to no waxing, buffing, and chemical cleaning).
Some hospital projects have required us to opt for installing free-floating LVT and/or other floors with adhesive backs. These installations are quick and easy to the point that they can even be used for at-home, DIY projects!
Patient Room Flooring
Hospitalized patients spend their entire day in their rooms. Feeling a home-like environment can uplift spirits, and studies have linked positive emotional states to quicker recovery times. Picking the right colors, patterns, and textures can go a long way. The fact these areas need not be aseptic means that you can choose from LVT, sheet tile, and linoleum. All these are relatively durable and cost less than natural materials. All benefit from rapid installation times as well, leading to less disruption for staff and patient routines.
Hospital Bathroom Flooring
An oft-overlooked area of the hospital that may actually be one of the most important is the bathroom. Hospital bathrooms must not only be hygienic and aseptic; they should maintain that "spotless" look as long as possible. Two viable options are sheet vinyl or linoleum, as these floors are easy to maintain while preventing slips and falls, but only LVT offers the type of long-term durability and spotlessness that hospital bathrooms should employ.
Which Floor is Appropriate for Your Hospital?
Luxury Vinyl Tile
This cutting-edge flooring is optimal for hospital floors. It offers minimal maintenance and maximum durability. LVT has quickly proliferated throughout various economic sectors, particularly within commercial spaces but also in residential. It is easy to install, resilient, waterproof, and ideal for high foot-traffic areas. Design options are endless as LVT uses photographic print processes to put any visual on tiles. Whether you have a look that exists that you want to mimic or one that you want to create from your imagination, LVT can accomplish it.
Now that you're more informed about hospital grade flooring, you may still have questions or concerns regarding selecting the best floors for the various areas you have to cover.
Europine can help. Our professional flooring experience can help you select the flooring for entrances/lobbies, ORs, ERs, cafeterias, nurse's stations, patient rooms, restrooms, clinical areas, treatment bays, corridors/hallways, and any other area in your hospital or medical center. Europine can help you choose the right options and finished for antimicrobial floors, better acoustic profiles, and much more! Please feel free to contact us here.