With nearly a quarter-million licensed dentists operating across the nation, it is no wonder more and more dentistry professionals are opting to incorporate their own office and administrative spaces into their medical procedures facilities.
The often taxing dual-role lifestyle led by these half-entrepreneurs, half-medical practitioners allows little time to investigate the prospect of investing in their flooring. Questions like what are the current top dentistry floors or what makes up the best flooring materials for dental offices are a start, but understanding the economic and practical nuances of things like the ideal thickness of dental flooring or why a particular flooring design best fits your dentistry practice can be hard to navigate.
Flooring for Dentists: Factors to Consider
Begin by analyzing your situation and why it brings you to think about investing in your flooring. Is there something forcing you, like faded or damaged flooring? Are you motivated by some inspiration for a new branding aspect, such as specializing in pediatric dentistry and orthodontics?
Truthfully determine what are your budgetary limits, factoring in how long you want/need your new flooring to last, how much foot-traffic your business will experience in coming years from clients and staff, and how much of your annual budget you are willing to commit to cleaning and maintenance year-round.
After laying out the fiscal landscape for your flooring investment, consider how essential the aesthetics implications will be for your flooring. Will a simple, cost-effective design suffice, or will there be a significant impact from your design choices?
You may decide to invest different types of flooring in the various areas of your dentistry operation, or elect to install only one type of flooring material with slight, aesthetic variations (if any).
After arming yourself with a solid understanding of your current financial situation and your expectations for the future, we can begin examining the various types of dental flooring products available on the market today.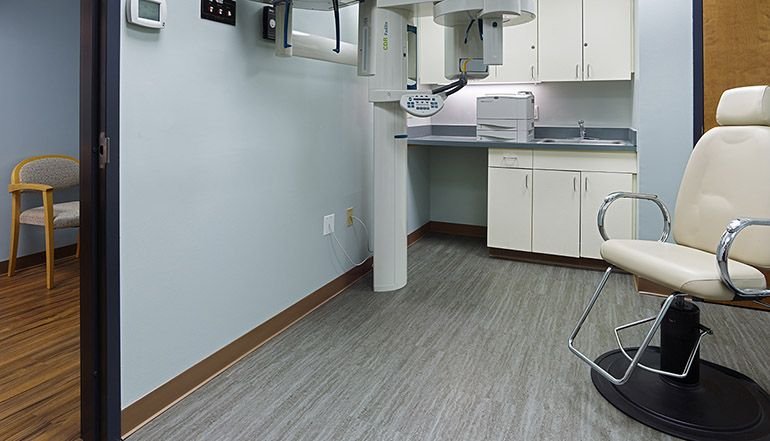 Dental Offices & Dentistry Practices: Top Flooring Ideas
Carpet is a commonly found floor in sections of dental offices; its popularity stems from minimal sound reverberation, comfortability of the under-foot, and cheaper upfront costs. It is offset by its weaker durability, fastidiousness of maintenance, and more expensive long-term costs.
Ceramic tiles are among the classic floor types, and with good reason; if high-quality ceramic tile is maintained correctly (not a particularly tricky feat), it has great mileage, resistance, and offers an array of looks that are worth its higher costs and proneness to cracks.
A heartwarming classic, hardwood flooring is a type of higher-end floor not typically found in dental offices. If used in non-medical areas, it can convey a specific message and reserved ambiance; this luxurious floor is mostly intended for the consideration of those who are completely unshackled of budgetary concerns.
An early version of wood-imitation flooring, "laminate-wood" flooring does a great job of mimicking wood given its low cost and even lower longevity. Only viable in office spaces with strictly minimal foot-traffic.
If hardwood is considered near the top of cost/quality, natural stone is just as unviable for all but the highest of budgetary limits. Those with lower budget ceilings may opt for these if a serendipitous bank loan situation is in place.
Rubber flooring in dental offices represents the epitome of practicality being favored over aesthetics. For its short- and long-term costs, it provides longevity, easy cleaning, anti-slip protection, and resistance to dirt and debris with little to no aesthetic variation available.
Flooring products made from vinyl come in an extremely diverse range. Due to the flexible chemical composition of vinyl, the family tree of vinyl composite tile flooring has continuously evolved throughout the decades. While the stereotypical VCT flooring represented a somewhat effective marriage of aesthetic range, durability, and cost-efficiency, the early iterations have become obsolete for many business owners.
The recent innovations of highly resilient vinyl flooring products, such as luxury vinyl planks, have taken the industry by storm.
Luxury Vinyl Planks: Best Flooring for Dentists
Luxury vinyl planks, otherwise known as LVP, are a type of resilient flooring. In contrast to luxury vinyl tiles, LVP is specifically engineered to retain all of the best qualities of resilient flooring while faithfully emulating the hardwood aesthetic.
If LVP's ability to genuinely incorporate high-end resiliency with cutting-edge aesthetic freedom wasn't enough, it provides these modern flooring standards at incredibly budget-friendly rates. The inexpensive manufacturing process, reasonable installation costs (varies by method), and hassle-free transportation of LVP keeps it at widely affordable levels.
The technological developments in 3D printing allows LVP to be fully customized to tailor the specific design your dental office needs. If your aesthetic approach veers into more abstract realms, yet you wish to keep the texture and feel of wooden floors, the design layer of the luxury vinyl plank can be modified independently of the core layers.
For unique but absolute requirements, such aseptic conditions and anti-microbial properties in procedure rooms, LVP excels in delivering high-quality performance. The inherent inorganic composition of LVP lends itself wonderfully to the various coatings and special finish layers available on the market; hospitals and research labs have begun turning to luxury vinyl floors for this very reason.
The array of choices presented in luxury vinyl plank flooring allows it to suit any dental office or dentistry practice. Europine's industry-leading LVP collections can provide the answers to all of your flooring problems as a practicing dentist.
Questions, concerns, feedback? We would love to open up dialogue to help guide you to the appropriate luxury vinyl plank flooring for your operation.
Europine's Collections are up to the task in both home and commercial settings. Design your
affordable, easy-care, and fashionable flooring, without sacrificing comfort and style.