Your clients want beautiful flooring. Yes, they care about factors like durability, scratch-resistance and waterproofing, but above all, they want a floor that looks fantastic! Whether the flooring is for a home or a business, aesthetics are the chief reason that people choose the flooring they buy. So what if you – or your clients – could obtain flooring that is all of those things: durable, scratch and dent resistant, waterproof, antibacterial, quiet, and beautiful?
When it comes to home and office flooring, customers have more choices than ever. Whether they are looking for beautiful, durable flooring for their homes or offices, they can choose ceramic tile, carpeting, luxury vinyl tile, hardwood, laminate or luxury vinyl planking for their flooring.
Elegant, modern and durable, luxury vinyl planking is the number one selling commercial flooring in the United States!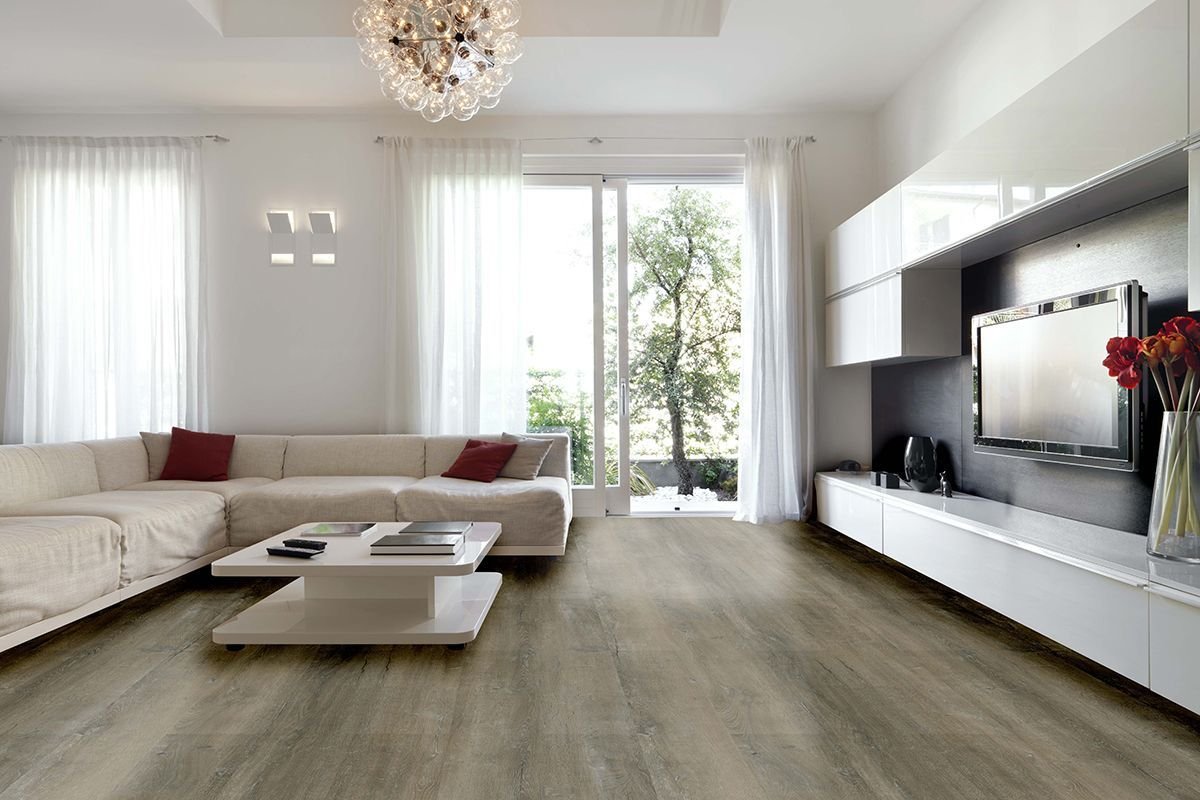 LVP flooring is made from a base of vinyl, mixed with ground limestone. The limestone gives the flooring a rigid core. It is both thicker and tougher than luxury vinyl tile, making it ideal for high-traffic areas. It's also known as stone composite flooring thanks to its mix of vinyl and limestone. It can be a little more noisy than other types of flooring, because of that rigid core, so an underlayment is recommended if the flooring is being installed over a concrete subfloor.
Luxury vinyl plank flooring is affordable. The product itself is a lower cost than many other high-quality flooring options, like finished concrete, carpeting, and ceramic tile, and it's also less expensive to install. LVP doesn't require industrial glue to install it; it clicks together and drops into place for easy installation. DIYers love LVP because it's so easy for them to install, without any mess or smell from glue, and it can be placed on top of any existing flooring, concrete or plywood.
Because it's so durable and resistant to scratches and stains, LVP doesn't require frequent, expensive professional cleaning treatments. It's UV-resistant too, so its color won't fade like other types of flooring will in sunlight. All of that adds up to a gorgeous floor for years to come! Quality, durable flooring can be beautiful too.
Whether you need quality LVP flooring for home or commercial uses, you want the best possible price for it. That means wholesale! Great news: you can take advantage of wholesale, factory direct pricing on the highest quality SPC products without needing to buy in the quantities that are usually required!
Europine, the only official United States distributor of ADO Flooring, sells premium luxury vinyl planking at manufacturer direct pricing. Manufactured with the most advanced technology available in the field, ADO Floor products are crafted in a factory on Turkey's gorgeous Mediterranean coast. The only LVP flooring manufacturer in Turkey, ADO Floor is dedicated to producing durable products that are available at great pricing, and most importantly, are beautiful. Contact them today to find the right flooring your home or business today!