Since the early days, gyms and other athletic centers have always needed floors that are as tough as the people exercising on them. Now, with health and fitness becoming a priority for everyone, fitness facilities floors are seeing more and more traffic. The demographic of gym-goers has changed from a rather homogenous group of bodybuilders and weight lifters into a veritable melting pot of fitness lifestyles. Bodybuilders and weight lifters still lift and drop heavy loads while yoga practitioners seek tranquility in quieter rooms. Sauna aficionados and hot tub users require hygienic, waterproof and slip-resistant floors while basketball and racquetball players need that extra bounce from stable indoor flooring. Zumba diehards and plyometric masters add a twist on a gym's flooring needs. Above all else, the flooring design must befit the inspirational environment of a gym while adhering to branding. Europine's flooring products and collections achieve these aesthetics while performing well in various sports and recreational areas, such as yoga and dance studios, sporting courts, free weight sections, machine areas, personal training and aerobic spaces, pools and locker rooms, and many more.
Luxury Vinyl Tile (LVT) falls under a category the flooring industry calls "resilient flooring" (see also sheet vinyl and rubber floors). LVT is composed of various layers, each with a specific function and thickness. The main ingredient, PVC vinyl, makes LVT durable while retaining that little "give" we all seek in a floor. LVT can also offer an unmatched range of aesthetic choices, from classic stone and ceramic looks to modern abstract patterns to custom made graphics.
How LVT is the best fitness center flooring
Affordability
Luxury vinyl tiles are cost-effective for several reasons. Compared to similar high-end floors (i.e., ceramic tile, hardwood), it costs less to produce, ship, and install LVT floors. It is also cheaper to replace, which doesn't often happen as LVT floors tend to last longer than its competitors.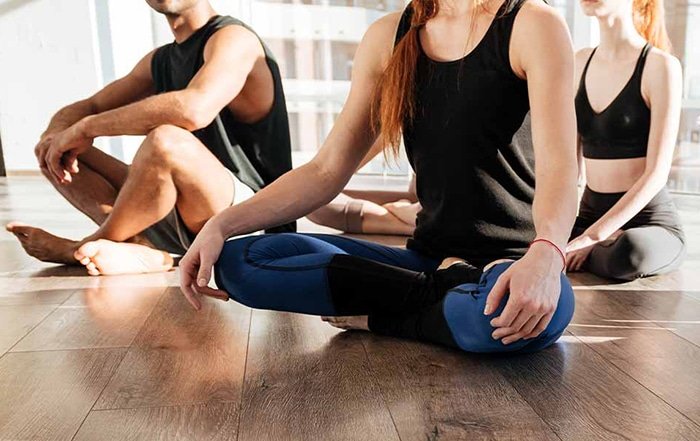 Aesthetics
The wide range of colors, textures, patterns, designs, and miscellaneous printing options means that LVT flooring can achieve virtually any look desired. You can mimic or imitate classical visuals or opt for avant-garde designs. Texturing is another way that luxury vinyl tiles can be manipulated to achieve specific aesthetic qualities. Here at Europine, we often hear clients tell stories of guests couldn't tell they had installed LVT flooring instead of actual wood and ceramic floors.
Ergonomics
Luxury vinyl tile floors have "soft underfoot." This effect means that when you step on the floor, there is a bit of a cushioning effect that softens the impact on the feet. Not only does walking feel more comfortable on LVT floors, it is safer as well. LVT floors are anti-slip, reducing the risk of injury from slip-and-falls.
Durability
One of the reasons that LVT flooring can be found across so many different sectors is the endurance and resilience of luxury vinyl tiles. The layered construction, wear layer technology, and availability of specialized protective coatings make LVT capable of withstanding high volumes of traffic. Even though luxury vinyl tiles endure the tests of time very well, most flooring manufacturers feature warranties ranging from 15 years to lifetime. As it stands, LVT that has been properly installed and maintained can last over two decades.
Easy Installation
Easy installation makes LVT popular with residential renovators and DIY enthusiasts. In the commercial and industrial sectors, fast installation times are crucial. The less time a commercial operation or retail store spends being shut down during installation, the more profits are preserved. In many instances, LVT of appropriate thickness can be installed right over the subfloor, or even over pre-existing floors. This removes the need to uninstall the previous flooring and helps keep LVT installation times short.
Minimal Maintenance
Perhaps the favorite reason managers and owners love LVT flooring is the low maintenance requirements. The ability to have attention-grabbing floors without committing to a burdensome cleaning schedule is paramount in today's fast-paced world. Indeed, the ease of cleaning and maintenance represents more than peace of mind; it is a mode of cost reduction. Without the need to wax and polish and without having to worry about stains and water damage, LVT is not only easier but cheaper to own in the long-run. Best of all, it means it can retain its brand-new gleam far longer than similar high-end floors.
Have a particular question for us?
If you ever find yourself needing/wanting to discuss any of these topics, or even just to ask your questions, please feel free to contact us. In fact, Europine encourages and welcome any and all further inquiries regarding your flooring concerns.