The number one consideration in retail flooring is aesthetic appeal. You need your floors to convey just the right message. It must appeal to both patrons and owners, regardless of the size of the retail operation. For customers and guests, it must be welcoming, engaging, and easy on the eyes. For owners, it must be on-brand and deliver just the right message as per their marketing strategy.
Investing in the right retail store flooring option is critical to appropriately utilizing your floor to its full ROI (return on investment). Aside from the overall priority of having an appealing retail floor space, there are numerous reasons and factors.
Retail operations are unlike any other in the commercial sector and thus require additional considerations. Aside from an aesthetically appealing and on-brand design, retail environments' floors must be able to withstand wear-and-tear from high foot-traffic, along with stresses delivered by heavy furniture, wheeled-traffic (dollies, shopping carts, wheelchairs, strollers), and other miscellaneous elements.
This list contains some of the reasons we here at Europine believe why getting the right retail flooring can be crucial.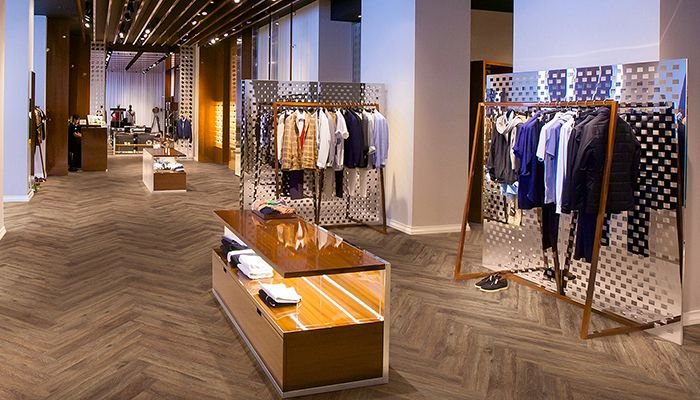 How to Choose the Right Retail Flooring
There are quite a few options for retail flooring. You can install carpet, hardwood, ceramic, laminate, and the ever more popular choice, vinyl. Of these many possible flooring solutions, luxury vinyl tile (LVT) stands as the best flooring for retail stores and operations. Let's explore how the versatility and affordability of LVT makes it the number one retail store flooring choice:
Branding and Rebranding With LVT
No other kind of retail flooring can be so versatile and practical that it stays on brand, at all times, despite how many changes there may be to the brand message. Luxury vinyl tiles can adapt to your retail company branding as often as needed.
All companies experience rebranding, to some degree or another, at some point in their lifetime. However, the smaller and less established a retail company is, the more likely it is to require rebranding. Frequent rebranding is often the only way smaller companies can survive in increasingly saturated markets. This economic strategy for retailers means that the companies who need to rebrand the most are often the ones who can afford to rebrand the least.
Luxury vinyl tile is the ultimate answer in retail flooring because it offers all the typical flooring looks, e.g., stone, wood, metallic, ceramic, etc., without the price tag and maintenance hassles of those floors. It not only costs less upfront, but it also saves money in the long-run as any replacements or rebranding will also come at lower costs.
LVT Enhances The Shopping Experience.
When creating the blueprint to a retail environment, it's crucial to think about the path you want your patrons and visitors to take.
A deliberately and cleverly designed interior can lead a customer to flow smoothly through the store, with products placed within immediate vision and access. This ability is part of why correctly choosing your retail flooring is vital.
Because of the aesthetic range that can be superimposed on luxury vinyl tiles, retail operations can easily mimic a look that it would not otherwise be able to afford to install and maintain. This seems pretty obvious, but it goes a step further. You can always print your brand logo or some other marketing design of your choosing. This also seems pretty reasonable.
What most clients overlook is that you can also print patterns on LVT that quite literally guide consumers to flow in specific directions. By subtly influencing a customer's subconscious to walk in a particular direction, you can quite literally create the flow you desire in your retail space, thereby maximizing the shopping experience for your consumers.
LVT is the Most Dependable Retail Flooring
Stability, durability, and sturdiness is vital in retail flooring. Your retail flooring selection needs to withstand the undefeated Father Time as well as the relentless pounding of the daily foot-traffic from droves of consumers and visitors.
Many retail stores consider ceramic floors for their durability. This decision, however, has proven costly in terms of repairs and maintenance. Luxury vinyl tile far and above outperforms other types of retail flooring. Not only does it make purchase and installation that much more affordable, but it makes maintenance and replacement effortless.
A Real-World Example of Retail Flooring Success
The versatility of luxury vinyl tile makes it ideal across various industries and sectors. Retail is no exception. Indeed, LVT has shown it can be the best flooring for retail stores.
We previously explored the functionality of LVT in regards to drawing a customer's attention in a specific direction. Aside from forming pathways for walking through display areas and product exhibitions, it can perform well in other areas that are commonly found in retail stores and operations. Take a look at this example: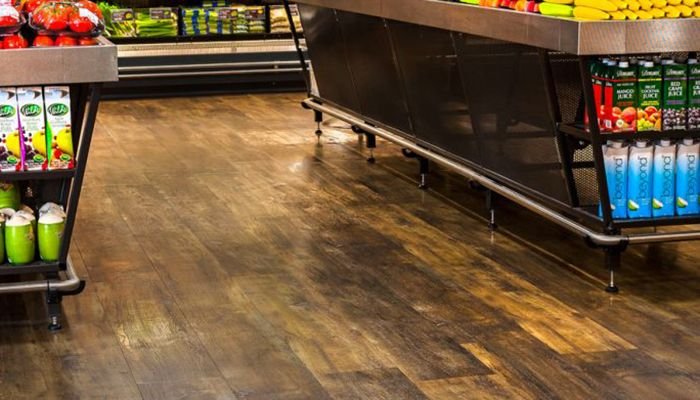 Whether due to freezers/coolers or products, supermarkets, and similar establishments experience accumulated moisture in one area or another. Some common examples are produce stands, freezer aisles, and fish markets. Luxury vinyl tile performs optimally as retail store flooring in areas such as these. While all floors can benefit from cleaning up moisture regularly, LVT will outperform other floors in being waterproof and anti-slip. With proper installation and a tailored sealant, LVT can be the best flooring for these retail store areas.
At Europine, our professional experience and perspective on retail flooring results in wins, not losses. Using the latest innovations in manufacturing strategies, we can provide best-in-class materials with cutting-edge designs and aesthetics. There is no end to the horizon of possibilities with LVT.
Please, feel free to start a conversation with us today and get answers to your questions about the best flooring installations for retail stores and operations nationwide.