Choosing the right kind of flooring for hospitality establishments is difficult. Hospitality interior design is different from the interior design of other types of buildings or operations because of the way that hospitality is aimed at guest satisfaction.
Hospitality, as a term, tends to bring to mind hotels and motels. While this may be an appropriate way to conceptualize hospitality during an everyday conversation, hospitality as an economic sector refers to much more. Food and beverage establishments, tourism sites, recreational activities and services (kayaking, rock climbing, etc.), and other forms of travel and entertainment all comprise the category of hospitality.
Just as there are a large variety of hospitality businesses and services, there is quite an array of hospitality flooring products. This article will discuss some common flooring solutions for hospitality buildings and operations and will detail some of the pros and cons of installing and owning each type of hospitality flooring. Let's find out which is the best hospitality floor on the market!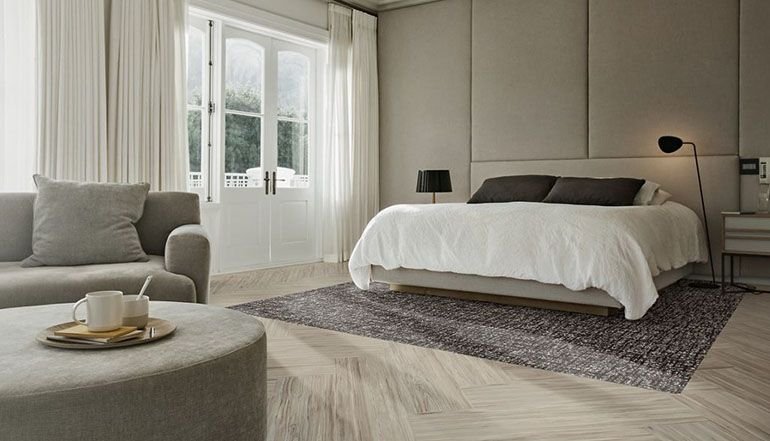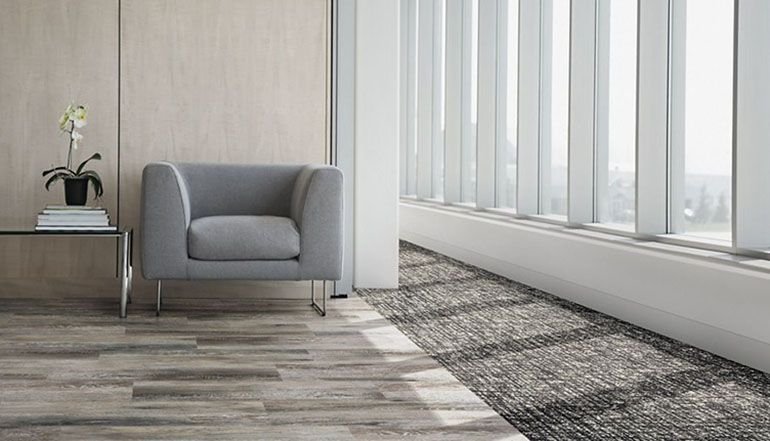 Carpet has long been a staple of the hotel sector, particularly in motels and other similar lodgings. This "iconic" flooring has several prominent pros and cons. These self-evident and obvious factors can often be felt during moments like walking into a hotel room and immediately noticing how stain or dirt-encrusted the carpet is. There are several aspects to examine concerning the durability and aesthetics of carpet flooring within the generalized hospitality industry. The look, feel, and longevity of carpet are of particular importance to hospitality businesses.
While carpeting can be selected to prevent stains or impact damage, there is a natural enemy of carpet that is harder to combat. Dust, dirt, and debris tracked in from outside pose a significant danger to any carpet. As patrons and associates enter your premises from outside, their shoes will carry dirt and other particles in the underlying shoe tread. It takes little effort for these to be pressed and ingrained into the carpet. Dirt is particularly adept at embedding itself within the carpet fibers and in the empty spaces in between each carpet strand.
One way to combat dirt to invest in what the industry calls a "tiered entry system." This means selecting and installing different flooring materials and coverings in the areas between the entrances and the region with carpet flooring. Rubber mats and other types of floor coverings laid over other flooring materials, such as LVT and LVP, can be efficient in reducing dirt damage on carpet floors by up to 80%. Typically, the flooring materials or floor covers chosen for tiered entry systems are easy to vacuum or sweep up.
HARD or RESILIENT FLOORING
Resilient flooring is a relatively new category of flooring. Sometimes called "hard flooring," there is an important distinction to make. Hard flooring includes a wide range of often similarly composed flooring materials. Resilient flooring more refers explicitly to VCT (vinyl composite tile) flooring and its various subtypes.
All hard flooring are considered to be much more durable and aesthetically-pleasing than carpet. With the easy cleaning and long-lasting lifespan of hard floors, it's not hard to see why more and more hospitality services are abandoning carpet flooring. Not all hard floors are created equal, however. Resilient flooring offers quality and aesthetics when it comes to hospitality industry flooring.
"Natural" hard materials – This refers to floors made from naturally occurring substances, specifically hardwood and stone. These types of floors look phenomenal when freshly installed. However, the "new" shine will invariably fade without extreme effort. Natural hard floors, especially as hospitality flooring, are susceptible to stains, spills, scratches, scruffs, and other types of surface damage. People associate natural hard-floor hospitality flooring with long-term durability, but this does not mean that the appearance will last long. Only the most rigorous and proper maintenance and cleaning routine can have any hope of preserving the brand new look of wood or stone hospitality flooring.
Laminate flooring – Its ability to imitate hardwood flooring in terms of aesthetics makes this type of hospitality flooring a popular one. While it may be a decent strategy for hospitality businesses that are on a budget, the long-term durability of this type of flooring makes it less appealing at higher levels of the industry. Laminate flooring is notorious for warped ends and distortion of the surface level. This is primarily due to the core layer of laminate flooring. Any water damage or accumulation of moisture will deteriorate the structural integrity of laminate flooring cores.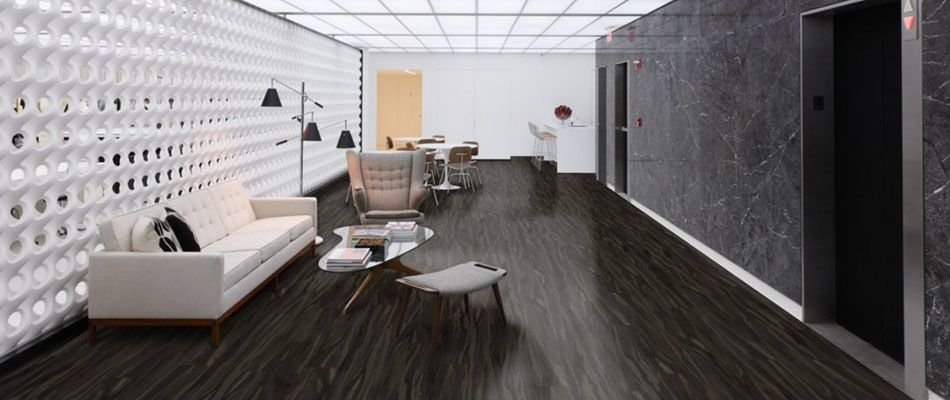 Luxury vinyl tile (LVT) – LVT is not only able to mimic the look of natural wood floors, but it is also able to mimic stone flooring as well. Moreover, LVT can sport any number of designs and patterns. The printing capabilities of cutting-edge LVT hospitality flooring means that any abstract pattern, elaborate color scheme, or brand logo can be installed onto the tiles. And unlike other hospitality flooring solutions, LVT can preserve the design layer by placing a protective wear layer over the visuals.
Considered the epitome of resilient flooring, LVT core layers are impermeable. Not only does this make it immune to water damage of any kind, but it also buffers any water from seeping down into the foundations of your hospitality flooring. At only a small fraction of the price, LVT can offer the natural hard floor ambiance while lasting longer. The easy cleaning and quick installation times mean that installing and owning LVT hospitality floors are a breeze compared to competing materials.
Have Additional Questions?
Europine indeed prides itself on delivering nothing but the best available on the market. However, nothing makes us happier than merely helping people solve their problems. If your interest was piqued by this blog or if you have a more serious inquiry regarding becoming a happy owner of LVT flooring, please contact us for more information, and we'll gladly create a dialogue to help you navigate the flooring market.