Los Angeles is one of the great cities for tourists. The City of Angels and its surrounding areas are chock full of hotels, motels, and resorts catering to the flood of visitors looking to spot a celeb, check out the movie studios, hit Disneyland or go to the beautiful beaches.
No one wants to worry about cleanliness and sanitation when they stay in a hotel. One way to ease those concerns? Install quality luxury vinyl tile or stone plastic composite flooring!
In the modern world, there are lots of options for cleanliness and ease of maintenance factors that Los Angeles hotel and resort guests look for. But not many flooring options are easy to install, inexpensive to maintain, beautiful, durable, and available at direct from the manufacturer pricing. Sealed concrete, linoleum, ceramic tile are available but only a couple of types of flooring meet all the criteria above – and are naturally antibacterial to boot! That antibacterial trait is especially important in the current world when people are more concerned than ever about infectious diseases.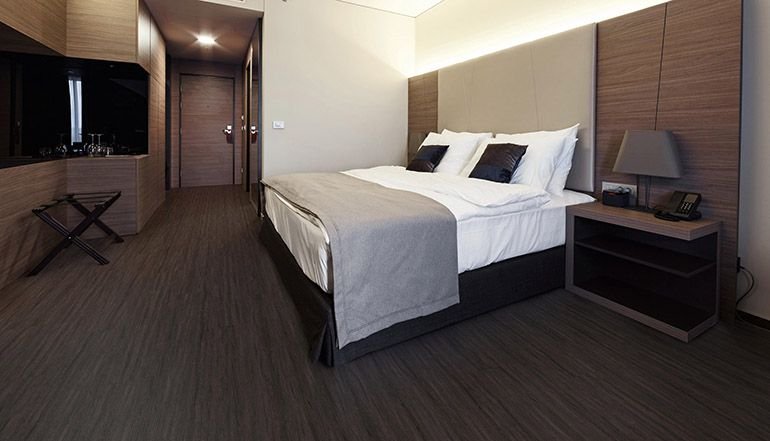 Stone plastic composite flooring (SPC), also known as luxury vinyl planking (LVP), is made from a blend of vinyl and ground limestone. That blend of materials makes it durable, hard to dent and long-lasting. It is available in a variety of natural looks including stone and wood aesthetics. It's 100% waterproof, easy to clean and maintain. It's not as easy underfoot as luxury vinyl tile – it feels less flexible and may not be as comfortable under bare feet.
The tradeoff is that luxury vinyl tile requires industrial glue to install. If you're working on upgrading the flooring in an operational hotel, motel or resort in Los Angeles, the fumes from the glue might affect larger sections of your buildings. SPC, or LVP, is simple to install for any hotel or resort need, including on-site spas and salons. It simply clicks together and drops into place with or without the additional sound-dampening underlayment. (Since most tourists are looking to relax and rejuvenate, we recommend investing in the underlayment for the acoustical benefits.)
SPC flooring and LVT are both 100% waterproof, ideal for guests walking around with wet feet after a shower or pool time. Using the best flooring will alleviate guest's fears of illness while maintaining a gorgeous, luxurious aesthetic that will help guests feel that they are in an indulgent hotel or resort. SPC and LVT flooring also help reduce allergen exposure for sensitive guests.
Both types of flooring can reduce your maintenance costs over time. It's easy to replace sections if needed, and it's easier and faster to clean than carpeting. Naturally, stain-resistant, both LVT and SPC flooring allow you to avoid the costs associated with expensive stain removal for carpeting.
Where can you find this quality of flooring at affordable prices, in a variety of aesthetics to meet any need? Only Europine, of course! As the only official United States manufacturer of ADO Floors, manufactured on the Mediterranean coast of Turkey, Europine is THE bridge between Europe and America for the highest tech modern, luxury flooring at manufacturer direct pricing.