Learning facilities, like schools and daycare centers, are essential to the future of our world. The presence of children and the subsequent considerations means that choosing the right flooring for a classroom environment is a tricky process. With so many different needs as well as various flooring solutions, decision-makers in schools and educational institutions face difficulties in selecting the best classroom flooring.
Luxury vinyl flooring, particularly luxury vinyl tile (LVT), has grown increasingly popular across various economic sectors. While the properties of LVT have performed extraordinarily well as commercial flooring in places like hospitals, airports, and executive offices, the question remains; is LVT a viable flooring option for classrooms and other learning environments?
This article will provide information on LVT as a classroom flooring product to help educators make the best choice in their school floors.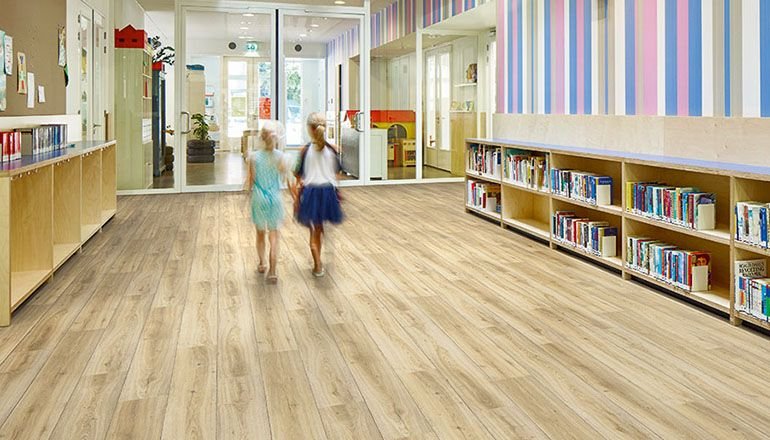 3 Top Priorities For Classroom Flooring
Flooring for classrooms and other areas of schools should meet the fundamental standards that all flooring installations strive to meet, regardless of the environment (i.e., commercial, residential, governmental, etc.). Floors should be visually appealing, have long-lasting durability, and above all else, be reasonably priced. From the moment of installation to the last time it is walked upon, high-grade floors should deliver a quality experience equal to the investment.
While schools looking to buy top quality floors consider these basic aspects, classroom flooring has additional factors to keep in mind. While installation tends to be less of concern due to the seasonal breaks found in school calendars (long weekends, holiday breaks, and summer vacations), there are at least three priorities that require more attention than typical commercial flooring installations.
1) ERGONOMICS & SAFETY
Carpet is often the preferred choice for classroom floors because it is perceived to be the only floor that can suitably protect children during school. While it is true that carpet can offer great shock absorption and minimal chances of slip-and-falls, it is not the only flooring that can handle the pressures of classroom flooring needs.
Luxury vinyl tile can offer excellent performance as school flooring in terms of ergonomics and other safety metrics. It is waterproof and moisture-resistant, meaning that it will dry very quickly (if the water isn't neglected). LVT with certain underlayments and backings can offer some "give" that softens not only your footfall but also any falls in general. This cushioning makes it the most comfortable classroom flooring to walk across, and even play on!
2) EASY TO CLEAN
Children are indeed one of the most beautiful elements of life. However, they can be quite messy creatures, especially the younger they are! As they learn to master their motor functions, children will experience many moments of clumsiness and inattention. Teachers are no strangers to messes created by spilling food and drinks as well as school supplies (such as glue and glitter). Recess periods often see clumps of dirt and grass tracked in from outside. The constant movement of large groups of students throughout various times of the day increases the chances to dirty the floors.
Luxury vinyl tile makes cleaning up after 25+ children a breeze compared to other types of classroom flooring materials. With a broom, some paper towels, and just a few short seconds, LVT floors in classrooms can be cleaned rapidly during emergencies. From a janitorial standpoint, sweeping and mopping with clean water and a standard household cleaning solution is more than enough to keep LVT classroom floors looking pristine.
While vacuuming carpet seems like the quickest and easiest solution, vacuums are not always the best option as it can disrupt the learning environment. Carpet cleaning may seem like it takes less effort to clean, but in truth, it is really just being cleaned less. Bacteria and other types of residual compounds can embed themselves into the lower layers of carpet classroom flooring that vacuums simply cannot reach. Not only is LVT easy to keep thoroughly clean, but it is also designed and engineered to be anti-microbial. This property makes it suitable flooring for even the most sensitive hospital areas, such as trauma bays and operating rooms.
You can create and keep a hygienic environment for the children with the best classroom flooring products the LVT market can offer, such as our GRIT collection.
3) CONDUCIVE TO LEARNING
A critical factor for school flooring installations is ensuring that the learning ambiance is not disturbed or otherwise detracted from by the floor itself. One relevant aspect is that of acoustic profile. The soundproofing and acoustic tuning qualities of your classroom flooring can drastically alter the experience of teaching and learning. Selecting LVT as your classroom flooring solution means that you will have a classroom floor that is conducive to learning.
While carpet again performs really well acoustically, LVT can offer similar sound management along with superior design choices. Whether you are looking for a color that soothes minds and improves concentration or are seeking to use graphic design printing to maximize the utility of your classroom floor, only luxury vinyl tile can offer the best classroom flooring choices.
LVT As General School Flooring
For reasons of safety, cleanliness, and positive learning, luxury vinyl tile makes excellent flooring material for classrooms. However, LVT can also be specified to suit your general school flooring needs. LVT is used in a variety of sectors, such as bars and restaurants, gyms and fitness centers, and executive and commercial offices. Experienced commercial flooring companies like Europine can help you select flooring for non-classroom areas found on school-grounds.
Cafeterias, recreation areas, and administrative offices are perfect areas to install LVT flooring. With the experience gathered from working in other sectors, luxury vinyl flooring professionals can help make your classroom flooring install a walk in the park.
Have Additional Questions?
Europine indeed prides itself on delivering nothing but the best available on the market. However, nothing makes us happier than merely helping people solve their problems. If your interest was piqued by this blog or if you have a more serious inquiry regarding becoming a happy owner of LVT flooring, please contact us for more information, and we'll gladly create a dialogue to help you navigate the flooring market.