I was a Ju-Jitsu blue belt for a while, and let me tell you: the best type of flooring for a location such as a gym or a fitness studio (everything from martial arts realms to Yoga) is not something we sell. Though you want wear-resistant and durable flooring, such as our SPC or LVP linkup, the thing about a fitness studio is that darned mat below you. When you go to the gym, what do you notice about the flooring? Most people do attend gyms regularly, and a standard gym may be able to focus on an LVP or SPC product from Ado Floors, our manufacturer in Turkey.
However, what happens when you need a matted flooring? Can you possibly enjoy Yoga without a soft mat underneath you? Can you slam a man down during a Ju-Jitsu tournament at the local Gracie Barra studio on a hardwood floor? No, you cannot. Mats are large flooring sectors, much like a carpet, but it is meant to allow comfort and the ability to absorb heavyweight. So, do the math here: what floor needs to be underneath that mat? The mat allows courtesy, but below it, you have to have a floor, right? Well, LVP or LVT flooring works well here.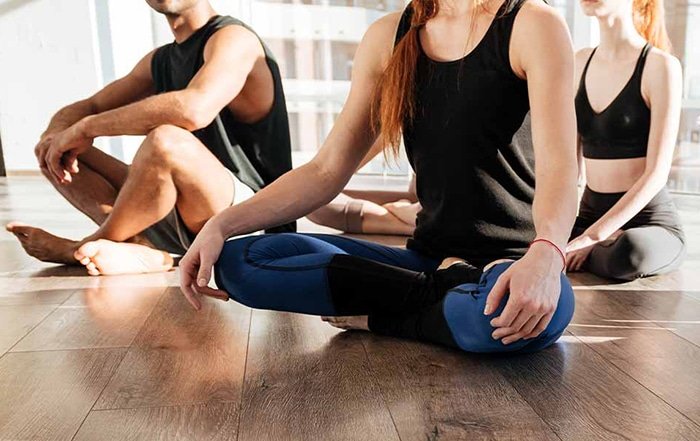 LVP or LVT flooring allows kind of a cushion beneath that mat. When you are doing Yoga, working out at a gym, or performing Martial Arts, you are bound to find that heavy traffic is actually quite necessary. When you think about it, there is not exactly high traffic but there is definite room for wear-and-tear. You also want something that is easy to replace. The benefit of our product offerings are that they allow for easy-to-install tiles to be laid down without an "under construction" sign. I walked into my gym a few months back and it was "closed for renovations."
Also, keep in mind that a gym, as an example, handles heavy equipment. You will need a floor that both withstands high traffic and also provides comfort and durability (a 1000-pound weight being thrust up and down is bound to be dropped). The average piece of gym equipment weighs around 500 pounds. This does not include lifting weights. Imagine a gym member lifting a 200-pound bench press and then dropping it onto the floor below. In other words, you need an easy-to-install, durable flooring with the ability for easy replacement.
So, what is the best choice? When in doubt, look toward our LVP or LVT flooring. They are great for commercial locations, and they can easily be replaced should a weight slam too hard upon the ground. However, I do think most people at gyms are careful enough to lower the weight first. Either way, you need durable flooring capable of withholding a lot of weight and foot traffic. We can help with that.
Europine, the only official United States distributor of ADO Flooring, sells quality SPC flooring at manufacturer direct pricing in its Miami location, no matter where you are in the United States. Manufactured with the most advanced technology available in the field, ADO Floor products are crafted in a factory on Turkey's Mediterranean coast. The only SPC flooring manufacturer in Turkey, ADO Floor is dedicated to producing beautiful, durable products that are available at great pricing. Contact them today to find the right flooring your home or business today!