When deciding what kind of flooring is the best to install in an area where groups of children will regularly spend long periods of time, there are many important factors to consider. Children's bodies are vulnerable to injury, yet they naturally engage in movement and activity that can become quite rough and strenuous. Likewise, their natural clumsiness as they master their body functions leads to accidents of many kinds. Flooring for children should also be hygienic and easy to maintain and clean. There also needs to be a certain level of comfort, in the form of a soft "underfoot" or a sufficient amount of "give." Lastly, the floors must contain an aesthetic that stimulates and engages the children instead of one that bores and stagnates them.
If you are considering investing in flooring for an area that will experience large groups of children on a consistent basis, then you may be wondering how to choose the best flooring material for child areas. You may be considering using more than one type of floor product for your daycare or child care center.
Here are some commonly utilized flooring solutions for daycares, child care centers, play areas, and other child-centric facilities:
This flooring is often found in outdoor play areas where children's activities require the most protection. The soft feel and amount of leeway on the "give" of the floor is ideal. Outdoor rubber tile flooring must be two or more inches thicker than interior rubber floors. These tiles can also resist most substances that stain daycare floors, such as water, juice, bodily fluids, and food. Things like grease and oil can cause stains, but these are not typical at child care centers.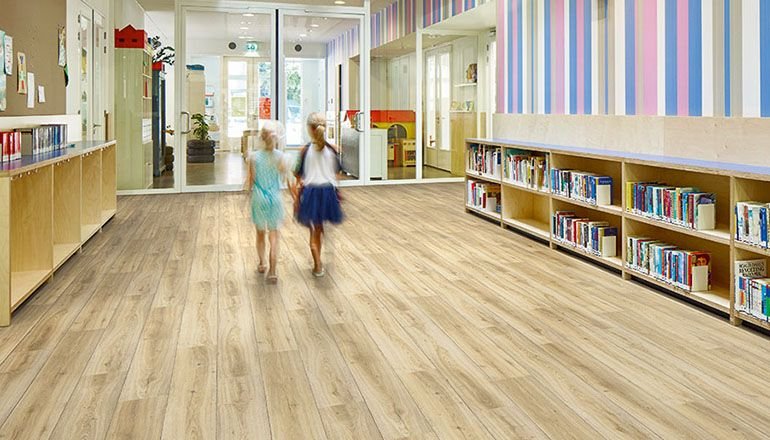 Linoleum floors share some qualities of vinyl, such as stain-resistance, easy maintenance, and the availability of additional features, such as sealants and padded underlayments. Generally speaking, it is not as high quality as resilient vinyl flooring but can compete or outperform some of the more traditional and basic vinyl floors.
Carpeting is a familiar mainstay, especially wherever soft and safe flooring is required. With children, it serves as a comfy surface for napping. However, its level of safeness comes at the sacrifice of hygiene; carpet fibers are well known to trap all manner of liquids, food particles, allergens, microbes, and even toxins. The susceptibility to moisture presents a dual challenge as carpets can damage easily and require frequent replacement. This can also threaten the integrity of the subfloors.
A natural and bouncy material, cork is an uncommon flooring material in the flooring industry that has found a home in child care centers and play areas. Environmentally safe, hypoallergenic, and highly protective for children at play, cork provides an excellent experience at the cost of longevity. It is damaged more quickly than other child area flooring materials, incurring some of the highest long-term costs among daycares and similar operations.
The term "vinyl flooring" used to mean a specific type of product made almost entirely of vinyl composite. Now, there is enough diversity in commercial vinyl flooring products that multiple distinctions are necessary. For professional daycare, child care center, and children play area flooring; traditional vinyl represents a somewhat cheap, both short- and long-term, and practical solution. It has decent longevity, affordable cleaning, hygienic and resistance properties, and has an average amount of "give" on the underfoot.
Resilient Vinyl Flooring: Best Material for Daycares and Play Areas?
This category of vinyl flooring is comprised of products such as LVT/LVP (luxury vinyl tile or plank), SPC (stone plastic composite), WPC (wood plastic composite), and other styles of blended vinyl composites and rigid core flooring. In general, this line of vinyl flooring can offer child care facilities the latest marriage between the best of vinyl composites and other daycare flooring options.
LVF (luxury vinyl flooring) is split into LVT and LVP. While there are some specific differences between the two, a rule of thumb when comparing the two is that LVP emulates classical hardwood floors while LVT is used to imitate other floors. SPC and WPC may sound like they share the same dynamic, but the inherently unique qualities of the stone or wood used in the vinyl blends create two very distinct products.
All of these floors share some qualities, namely the durability and resistance properties that make them resilient flooring. Owners looking to shop for the best daycare flooring on a budget should strongly consider resilient vinyl flooring as it offers the best longevity and highest durability. Replacement tends to occur infrequently, and the costs are the same as installing. The aseptic properties of resilient flooring has made it popular among hospitals and medical research facilities, making it the most hygienic flooring for areas with children.
The ability to have more than one underlayment for resilient-vinyl floors allows daycare centers to customize the "underfoot" and acoustic profiles. The ability to resist rough play, furniture dents, and all manner of stains while retaining a necessary amount of softness in the floor can make resilient-vinyl floors some of the best floor options for child care areas.
The most exciting advantage of LVP, LVT, SPC, and WPC floor products is the cutting-edge 3D printing capabilities. Most commonly used child care flooring materials do not offer any visual or aesthetic choice, forcing daycare owners to spend money on floor decor. The floors that do offer some design choices tend to be restricted in what they can offer. Resilient vinyl flooring can not only emulate any classic floor design and texture, but it can also be printed with any design and textural surface you have in mind. From non-traditional and abstract patterns to branding and logos, to specific images or figures, resilient floors can be tailored to convey any creative design. This is especially important as children as developing their minds alongside their bodies. Resilient flooring can stimulate the creativity and lateral thinking of children in ways that other flooring materials simply cannot.
If you ever find yourself needing/wanting to discuss any of these topics, or even just to ask your questions, please feel free to contact us. In fact, Europine encourages and welcomes any and all further inquiries regarding your flooring concerns.