The technological trend in the commercial flooring industry has not only solidified resilient flooring as a category, but it has also led to the creation of sub-categories within resilient flooring. With dizzying amounts of information to sift through, retailers and consumers alike sometimes have difficulty choosing the right flooring solution. Luxury vinyl tile (LVT) and stone plastic composite (SPC) are the two leading products within resilient flooring, yet there remains confusion between the two.
The last decade or so has seen LVT rise to the top as the leading product on the flooring market. The recently engineered SPC floors are now beginning their ascendance as well. The industry is starting to discover more and more about the correct matching of each product to different environmental needs. While both types of flooring material are similar in many ways, there are also particular differences.
Every economic decision should start from a base of understanding. In the world of commercial flooring, where many are stuck between LVT and SPC, examining the nuances of each floor can lead to making the right choice.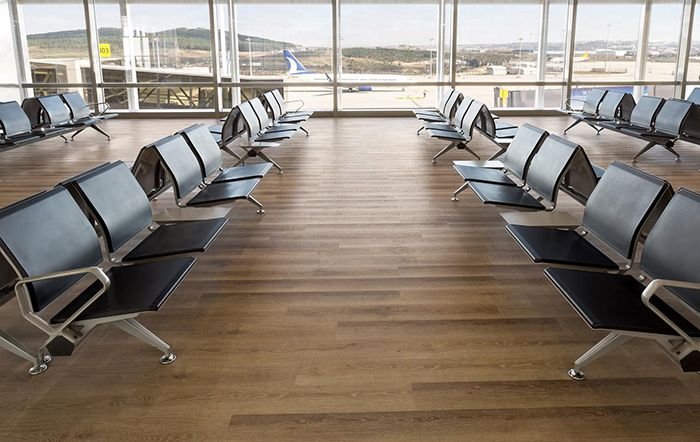 LVT Flooring vs. SPC Flooring: The Differences
Composition – The main difference between luxury vinyl tile and stone plastic composite can be found in the construction. While both kinds of flooring use a layered model, the core layer is completely different in each. LVT flooring uses a simple PVC core, much like other vinyl floors. SPC takes the PVC core composition and mixes it with limestone. The resulting effect is that SPC is more rigid and feels less flexible than LVT.
Width or Thickness – On average, stone plastic composite floors are thicker than typical luxury vinyl tile floors. The upper range of LVT thickness is the lower range of SPC thickness. LVT typically maxes out at 4mm width, while SPC typically starts at 4mm width.
Stiffness – The structural differences due to the core layer construction leads to different levels of sturdiness and comfort. The softer, pure PVC core of LVT leads to a softer underfoot that helps make walking across it much more comfortable. On the other hand, SPC's stiffer rigidity will lend support and stability to the flooring. SPC is also more durable against surface wear-and-tear due to this difference.
Aesthetics – The advances of computer imaging and design printing lends both LVT and SPC access to a wide array of visual options. While having the option to make your floor look like anything you like is indeed empowering, commercial aesthetics are more than just visuals. The feel and texture of the floor also plays into how the aesthetics of a room are perceived. Standard LVT floors tend to feel somewhat like other floors, but mostly carry the same textural feeling. SPC floors are able to achieve realistic textures easier due to their increased mass. While the difference may be negligible in some environments, it can certainly make or break the intention of a room is chosen incorrectly.
Installation Method – Commercial luxury vinyl tile can be installed via standard gluing, loose laying, or "clicking and locking." Stone plastic composite can be installed either by a floating click-and-lock system or a tongue-and-groove system (the latter is far more appropriate for DIY options).
Subfloor – In terms of subfloor materials, both LVT and SPC can be installed over the same range. Plywood, concrete, and even previous floors can all be installed over. The difference lies in the condition of the subfloor. Regardless of material, any subfloor that will have LVT installed over it must be smooth, level, and otherwise free of imperfections. Any damage or flaw will show through to the surface of an LVT floor. SPC grants a little more leeway; the denser mass allows SPC to be installed over imperfect subfloors. The state of a commercial subfloor may be the deciding factor between LVT and SPC, especially if repair costs outweigh the benefits.
Resiliency – The tradeoff for increased comfort and flexibility is that LVT floors are more susceptible to surface damage, particularly indentations. Heavy furniture and large equipment will pose a danger to LVT floors. SPC flooring is less pliable and less comfortable, but it also resists the impact of bulky items and forceful collisions. This makes SPC less suited for office settings, but highly ideal for commercial and warehouse environments.

Affordability and Pricing – In terms of resilient commercial floors with rigid cores, SPC is generally the most affordable type. However, luxury vinyl tile flooring is typically less pricey than stone plastic composite.
LVT Flooring vs. SPC Flooring: The Similarities
Impermeability – Due to the layered construction of both LVT and SPC, these flooring options are waterproof and impermeable. Water damage from excessive humidity, accumulated moisture, or even accidental spills does not affect the integrity of these resilient floors.
Variety – The design options available for LVT are also fully available for SPC. Both of these commercial flooring options offer the ability to mimic the look and texture of "classic" commercial floors, such as ceramic, hardwood, and stone. Moreover, LVT and SPC can feature an endless array of color, pattern, and graphic design options. With modern printing capabilities, the only limit to what can be printed onto LVT and SPC commercial floors is the limit of one's imagination.
Versatility – Modern commercial operations face various different environments and challenges. The technological advances in flooring manufacturing now allow LVT and SPC to feature a host of different finish options. With these specialized coatings and protective layers, commercial LVT and SPC can be installed under most conditions and can be specified to meet a variety of needs.
Easy Maintenance & Routine Cleaning – All vinyl flooring options, be they LVT, SPC, or some other form, are well-known and highly regarded for the ease of maintenance. Standard vinyl flooring for commercial stores or operations is designed to require only basic cleaning, such as sweeping and mopping. With any special finishes, cleaning can be made even easier by requiring less frequency of deep-cleaning.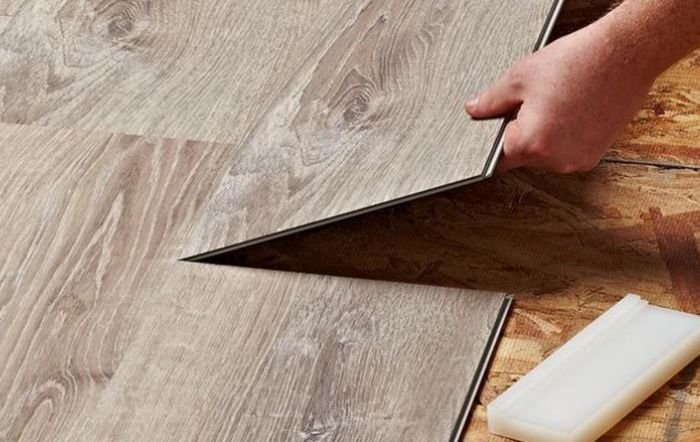 Have Additional Questions?
Do you have any questions or inquiries from reading this material? Perhaps you wish to seek some guidance or advice? Just contact us and let us know! Here at Europine, we pride ourselves on maintaining an open and honest dialogue with any consumer interested in luxury vinyl and resilient commercial flooring!
Europine's Collections are up to the task in both home and commercial settings. Design your
affordable, easy-care, and fashionable flooring, without sacrificing comfort and style.