In today's continuously changing economic landscape, businesses across all sectors are reevaluating their balance sheets. The hospitality industry, hotels particularly, are experiencing growing concerns for the future. One response is to improve cost-effectiveness.
A hotel's flooring can significantly affect the overall cost of maintenance for hotel operation. Careless decision-making here can not only create mounting maintenance costs, but it can also lead to surprises down the road in the form of costly replacements or repairs.
Let's look at some things to keep in mind if you are selecting hotel flooring for a new installation or as an alternative to a current floor. We will specifically look at the reduction of yearly costs associated with cleaning, maintenance, replacement, and repair.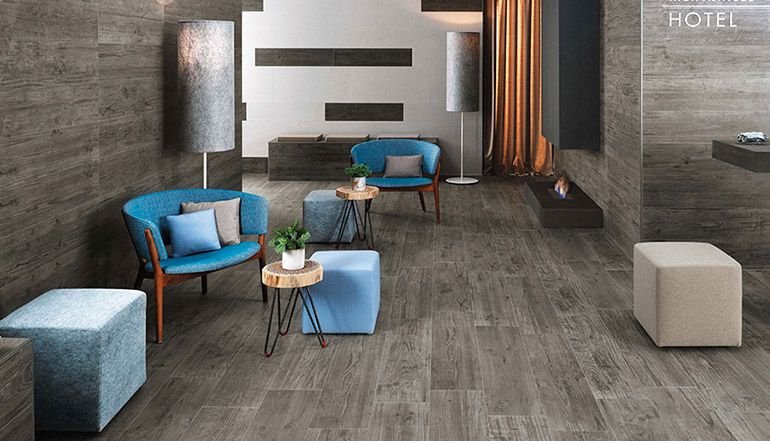 Hotels experience more foot traffic than nearly every other kind of business. It also undergoes a fair amount of wheeled traffic and rolling loads due to luggage with wheels, rolling carts, etc. Maintaining a clean and pristine look requires frequent cleaning. From an operational standpoint, it requires materials such as tools (brooms, wax machines, etc.) and cleaning agents. It also represents a cost in terms of labor wages.
All types of flooring require a maintenance schedule of some sort, primarily to ensure the floors look their best and to extend their lifetime. Therefore, examining what each flooring means in terms of routine cleaning can help identify cost-effective choices.
Carpet flooring is maintained with vacuum cleaning. This is not as labor-intensive as other forms of cleaning, and it is noticeably more efficient than mopping. However, it will require in-depth cleaning sessions frequently as vacuuming cannot effectively clean the carpet fibers by itself. Skipping out on carpet deep-cleaning appointments can lead to unpleasant odors, permanent discoloration, and degradation of the carpet fiber.
Hardwood and stone floors do not experience the same level of susceptibility as carpet does, yet require costly commitments just as well. While you may not need two forms of cleaning to ensure the entire depth of the floor is cleaned, hardwood flooring and stone flooring require special cleaning agents to be appropriately maintained. Moreover, janitorial and custodial staff must be trained on how to properly manage these types of floors if the floors are expected to last long. Depending on the level of activity, it may require nearly as much cleaning as carpet.
Luxury vinyl hotel flooring is cleaned primarily via sweeping and mopping. The protective top-layers keep dirt, dust, and debris from penetrating the inner core layers and ensure they can be cleaned with regular clean water and common cleaners. It provides the same longevity as hardwood and stone floor without requiring specialized maintenance knowledge. Likewise, it doesn't need to be waxed with any regularity at all. While higher traffic hotels may prefer to apply some polishing products from time to time, we here at Europine suggest using a polish designed for luxury vinyl tile or luxury vinyl plank. The low-cost maintenance and easy cleaning routines make luxury vinyl flooring an ideal solution for hotel flooring that reduces upkeep.
2) SURFACE DAMAGE RESILIENCE
Surface damage can come in many forms. The most common examples are scuffs, scratches, stains, and spills. Hotel floors are often subjected to more surface damage than other floors. Guests and employees are always moving about. There may be heavy boots or sharp high-heels making contact with the floor. Food and drink are constant risks to damage the surface of your hotel flooring. In short, the possibilities of surface damage are more prevalent in hotels than in other businesses.
Studies show that the majority of chronic wear-and-tear damage in any structure occurs in just one-fifth of the total floor space. For most types of buildings, this one-fifth tends to be entrances and main hallways. For hotels, this holds as well, although wear-and-tear may also occur in inner halls of hotels due to guest traffic patterns. One way of mitigating this phenomenon is to employ a tiered entry flooring system. This form of alternating flooring can protect floors by placing the brunt of the damage on the more resilient flooring. The first tiers, or the outer tiers, remove the external contaminants tracked in by shoes before people enter the inner levels of more sensitive flooring. Luxury vinyl tile is particularly well-suited to this role as it is inherently more durable against surface damage from external contaminants.
The layered design of luxury vinyl tile (LVT) and luxury vinyl plank (LVP) gives luxury vinyl hotel flooring an impermeable shield. Stains from food or spilled beverages will not permanently damage or otherwise affect your LVT hotel floor. The waterproof luxury vinyl tiles also make it easy to remove and clean these would-be stains and spills. For hotels and other lodging operations, having floors that are resistant to surface damage is crucial to keeping overall costs down. It helps to lower both the cleaning costs as well as total replacement costs.
Hotels and motels are unsurprisingly large properties. The sheer volume of floor area means that any flooring project, whether new or replacement, represents a substantial investment. The industry average for hotels and similar hospitality lodgings is to change their hotel flooring every 8 – 10 years.
This figure is subject to change based on a few factors. Particularly bad accidents make precipitate needing to replace the flooring suddenly. Perhaps a new branding campaign requires an overhaul in aesthetics. Regardless of the reason, it is clear that the longevity of a floor and replacement/repair costs are critical to consider.
Luxury vinyl flooring (LVF) is already well-regarded in the industry for providing an affordable installation price with dependable durability. Over time, the low replacement costs are starting to prove to the market the advantages of LVF. The need to repair or replace LVF entirely occurs less often than with other types of hotel flooring. But whenever the need does arise, the rate to replace the flooring is no different than it was during installation. This provides LVF owners with a sense of peace as they know that they will not face unexpected surcharges on replacement projects for their flooring.
Carpet and natural floors, like hardwood and stone, have their advantages in some areas, but often come with surprise costs down the line. Replacement projects can often end up costing more than it took to install initially. This, of course, depends significantly on the state of your flooring at the time of replacement. Given that hotels experience high frequencies of traffic, the possibility of repairs or replacements makes it prudent to consider going with a floor that not only has extended lifetime but also has no hidden replacement costs.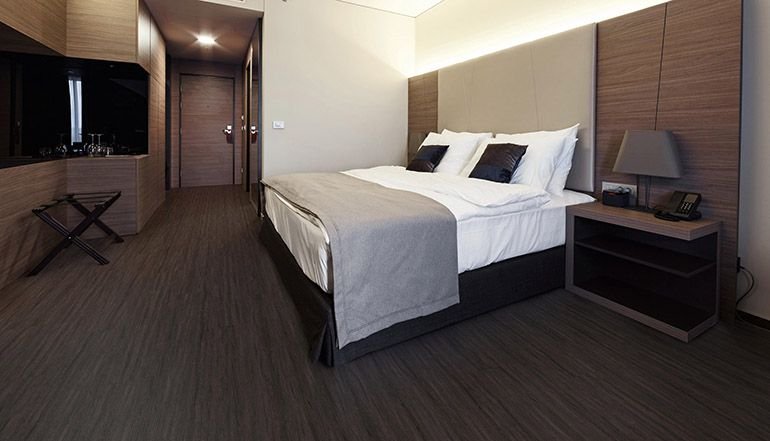 Have Additional Questions?
Europine indeed prides itself on delivering nothing but the best available on the market. However, nothing makes us happier than merely helping people solve their problems. If your interest was piqued by this blog or if you have a more serious inquiry regarding becoming a happy owner of LVT flooring, please contact us for more information, and we'll gladly create a dialogue to help you navigate the flooring market.