Vinyl flooring is really just a fancy term for "synthetic." Made 100 percent from plastic, the foundation of a good vinyl floor is unsurmountable! There are several types of vinyl, including the standard terminology LVT and LVP. These are two strong candidates for a good floor, as they often come from a special type of tile. For instance, when you talk about LVT (luxury vinyl tile) or LVP (luxury vinyl plank), you are dealing with great durability, wearproof, and waterproof flooring. Now, vinyl flooring is not always from tiles, but that is the most conducive form of it.
Vinyl plank is easy-to-install! We wrote a blog on installation, and as you can see it takes very little time and effort. When thinking about buying vinyl flooring, the number one question you have to be asking is: why am I buying this? Well, if you want a floor that resists wear, dents, high traffic, looks great, and is easy-to-install and easy to maintain, you want LVP and LVT flooring, or standard forms of vinyl flooring. This is the type where you can lift, sand and glue. It is important to note the price differences between vinyl and other types of flooring, as seen below.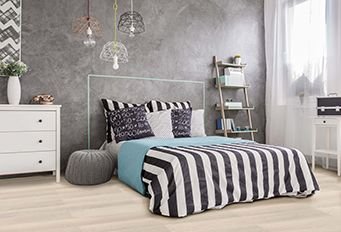 When you do the math, vinyl flooring can cost a home of a square footage of three thousand feet a $4000 difference between installing LVP or LVT and other flooring types, such as laminate or linoleum. Vinyl flooring is the way to go. It is also easy to make. Though the term: "synthetic" does sound bad, that does not mean it has negative side effects on the person walking on it! In fact, quite the opposite. Walking on vinyl flooring will cause less damage due to foot traffic. You will also find that "synthetic" really just means handmade, rather than from a natural source.
Now, how do you choose between LVT and LVP? Luxury vinyl tile is really dependent on looks versus value. LVP looks more like hardwood; LVT looks more like linoleum, from what we have deciphered. The cost is around the same, and the makeup is also the same. However, the look you want to convey in your office, home or warehouse is imperative. LVP looks much like a real hardwood floor, and may require a bit of additional cleaning to keep it looking fresh (or not). LVT is simply a tile, but so is LVP. Why do we have such conflicting terms between the two? Is there a difference?
No, there is not. Just the look! Lastly, vinyl flooring is great for homes, offices, retail locations, offices, warehouses…need we go on? You definitely want to check out Europine for some great prices! We always offer the highest quality in flooring needs, and we are here for you. Let us know what you require, contact us, and we will get in touch as soon as possible. Once done, we can get you started on your flooring needs!
Europine, the only official United States distributor of ADO Flooring, sells quality SPC flooring at manufacturer direct pricing in its Miami location, no matter where you are in the United States. Manufactured with the most advanced technology available in the field, ADO Floor products are crafted in a factory on Turkey's Mediterranean coast. The only SPC flooring manufacturer in Turkey, ADO Floor is dedicated to producing beautiful, durable products that are available at great pricing. Contact them today to find the right flooring your home or business today!