Luxury vinyl tile and plank flooring might feel like recently invented floor products, but prototypes of LVT/LVP flooring came in the middle of the 20th century. The reason why luxury vinyl flooring seems to have just exploded on the market is because of the latest technological developments. The aesthetic options and performance metrics have radically diversified and improved over the last couple of decades. Cross-sections of different economic sectors continue to switch to LVT and LVP, and this has mobilized domestic flooring production. As production capabilities continue to grow more sophisticated, we here at Europine agree with predictions of impactful industry transformations in the coming years.
Economic climate of flooring industry
Since 2015, the general flooring and floor covering industries have been trending in a positive direction across various economic and fiscal metrics. As the rate of urban sprawling continues to climb, so does the outlook of the flooring industry, particularly for "resilient" flooring. Resilient floor is a market term for what manufacturers/distributors call luxury vinyl flooring or luxury performance flooring. LVT and LVP are the two main types, and they have recently been joined by stone plastic composite (SPC) and other forms of rigid core flooring.
The market robustness is evident when one looks at employment percentages and wage increases, two reliable predictors of how well an economic sector is doing. The latest figures indicated that the flooring industry has increased its rate of employment by 4.5% and is paying those employees 13% more on average.
The flooring industry is also producing high numbers in more traditional measures of economic soundness. In 2018 there were $22.98 billion in total sales, representing a 4.57% increase from the previous fiscal year. This pattern of positive growth in total industry sales stretches back to 2009.
Interestingly, while 2018 saw a continued growth of total sales, it was the first year that experienced a reduction of total volume sold (-0.56%). This abrupt reversal is directly attributable to the decline of carpet flooring, in terms of both total sales and distribution volume. The reason the flooring industry was able to post positive sales growth percentages is because of the meteoric rise of "resilient" flooring. Multiple price increases across "resilient" flooring products, including SPC and rigid core, offset the blow of carpeting's market contraction.
And it is not just carpet that is giving up ground to high-end luxury vinyl flooring products; "peel and stick" tiles, vinyl composite tile (VCT), and sheet vinyl flooring commanded 75% of all sales dollars circa 2008-2009. In 2018, they accounted for less than a quarter (22.5%) of total industry sales.
The calculated CAGR (compound annual growth rate) of the flooring industry is predicted to stay quite positive for the next five years. CAGR is a complicated economic calculation designed to provide investors with a more realistic expectation of when their initial investment will yield returns. The CAGR of an industry is a reliable and widespread statistic used to calculate how robust and viable is the economic future of a particular industry.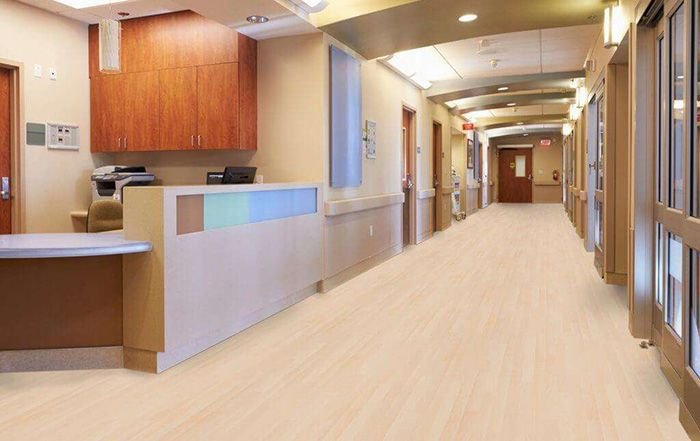 Why LVT is currently dominating the market
Having looked at statistics and market trends, it is clear that consumers seeking the best flooring products/materials are turning towards luxury vinyl tiles and luxury vinyl planks (as well as SPC). Not only is LVT/LVP currently the hottest flooring on the market, it is confidently predicted that it will continue dominating the market for the foreseeable future. To better understand why the numbers and data indicate that, let's examine some of the qualities that clearly make luxury vinyl flooring the best floors for 2020 and beyond.
The reason LVT and LVP floors outpace its competitors can be stated simply; these floors represent a convergence of all desirable traits in a professional floor. It combines the best qualities of different types of floorings to create the best flooring for commercial spaces and residential properties alike!
The aesthetics allow luxury vinyl flooring to emulate any look, be it classical or abstract. That alone allows LVT, LVP, and SPC to compete with any type of flooring. This versatility actually does more than match other kinds of flooring; it allows luxury vinyl floors to achieve looks no other floors can provide.
Compared to ceramic and porcelain tiles, LVT and its variations can easily mimic the design, texture easily, and overall "feel." However, LVT flooring, especially commercial LVT, is far more resistant to damage. It's also lighter and easier to install. These three factors lead to lower costs as well.
For hardwood floor aficionados, LVT can bring you realistic renditions of even the most exotic wood flooring looks at cost-effective prices. While LVT and LVP are more durable than wooden floors, accidents can still happen. Unlike the exorbitant replacement costs for rare hardwoods, replacing luxury vinyl flooring is just as affordable as installing it.
Laminate flooring approximates LVT and LVP in some critical performance metrics. They both can imitate classical flooring aesthetics, come in similar dimensions, and have quick installation options available. However, while laminate flooring is less expensive than LVT and other similar floors, there is a fundamental difference that explains why LVT is the powerhouse of "resilient" flooring. Laminate flooring gains a degree of improved scratch resistance over LVT due to fiberboard cores. The drawbacks of these cores are what have pushed the commercial and retail flooring trends in 2019-2020 towards LVT. Laminate flooring fiberboard cores are not engineered to handle moisture or water. Commercial flooring, by its very nature, has to withstand harsh elements. LVT commercial flooring also offers better acoustics and soundproofing for your business operation. There are also other additional features available in the commercial vinyl flooring market. Different underlayments, coats, and finishes are offered to augment the durability and resistance qualities of luxury vinyl commercial flooring.
If you are curious about more reasons LVT, LVP, and SPC are taking the flooring industry by storm, click here to find out more about luxury vinyl flooring or contact us here at Europine!